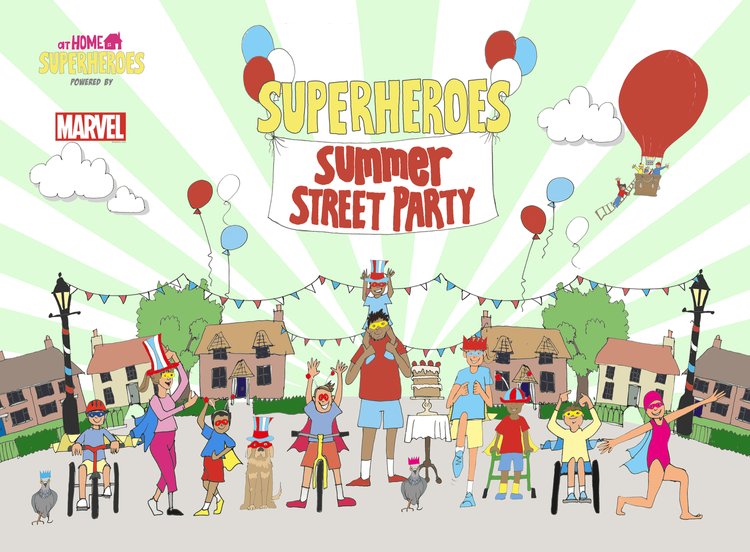 Superhero Series powered by Marvel
We have 500 entry packs which are FREE OF CHARGE! To take part in the event, you need to set yourself a personal challenge which you will complete during the weeks of 23 July – 20 August 2022.
You can enter as an individual or unite with friends, family, school or work colleagues to complete your Superheroes Summer Street Party Challenge. All we ask is that if you are a solo participant or are part of a team, at least one of you would consider yourself as having a disability (of any kind)!
This month-long challenge is to encourage our super community to try something new, go a little further than you've gone before or simply unite with family and friends to share a super passion and do something together!
Maybe you want to try cycling for the first time, go for a family walk or challenge yourself to complete a set distance over the month. You may prefer a sensory challenge such as cooking or art.
Whatever your Super Power is, you are welcome to join in!
Your mission:
Superheroes will be placed in one of four SUPER TEAMS & you can choose to run, wheel, swim, push, taste, touch, dance & anything in between towards your own personal goal. You're free to set you own goal, from 100m to 1,000km or more!
You'll be asked to email your distances to our Move More Jersey Disability and Inclusion Officer Claudia Andrade – Claudia.Andrade@jerseysport.je
Don't panic, you'll be working with hundreds of Superhero and Sidekick teammates towards your SUPER mission!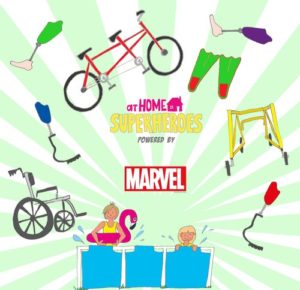 How:
Anything goes, from walking, wheeling, swimming, canoeing, cycling to skating, Super Sensory challenges & dancing the days away – or a combo of all the above! Whatever keeps you motivated & makes the most of your own unique superpowers!
Dress code:
A Superhero costume, of course! Check out some of these supersonic costumes to help you look & feel the part.
Super Race Packs
All entrants will receive a Super Race Pack, including a medal, T-shirt & finish line tape for those celebratory finish-line moments.
Each participant gets:
T-shirt
Memento medal
Finish line tape
The chance to be a Superhero for the day/week/month. Priceless
Are you ready to accept your mission?
To claim your registration please complete the below registration forms.
Once your form has been completed please email a scanned or photo copy to our Move More Jersey Disability and Inclusion Officer Claudia Andrade – Claudia.Andrade@jerseysport.je who will provide you with further information on how to collect your pack.
REGISTRATION FORMS
SUPERHEROES SERIES INDIVIDUAL REGISTRATION FORM 
SUPERHEROES SERIES GROUPS REGISTRATION FORM
SUPERHERO SERIES TERMS AND CONDITIONS
Jersey Team Captain

Superheroes

!
Superhero Series is not just about Moving More, as we also found four Jersey Team Captains to help represent a SUPER team of islanders.
We ran a competition for islanders with a disability to tell us a SUPER story and their SUPER sporting achievements (big or small) to be in the chance to be a team captain and lead your Superhero team to victory!
We're delighted to announce the winners of the competition are:
Robin Shamina representing #TeamCaptainAmerica with her SuperPower – to be able to swim like a fish!
Dylightful Dylan representing #TeamHulk with his SuperPower – Charm and an infectious laugh!
Mia representing #TeamCaptainMarvel with her SuperPower – to make more people proud of her!
Batman Matt representing #TeamIronMan with his SuperPower – being able to tell the weather!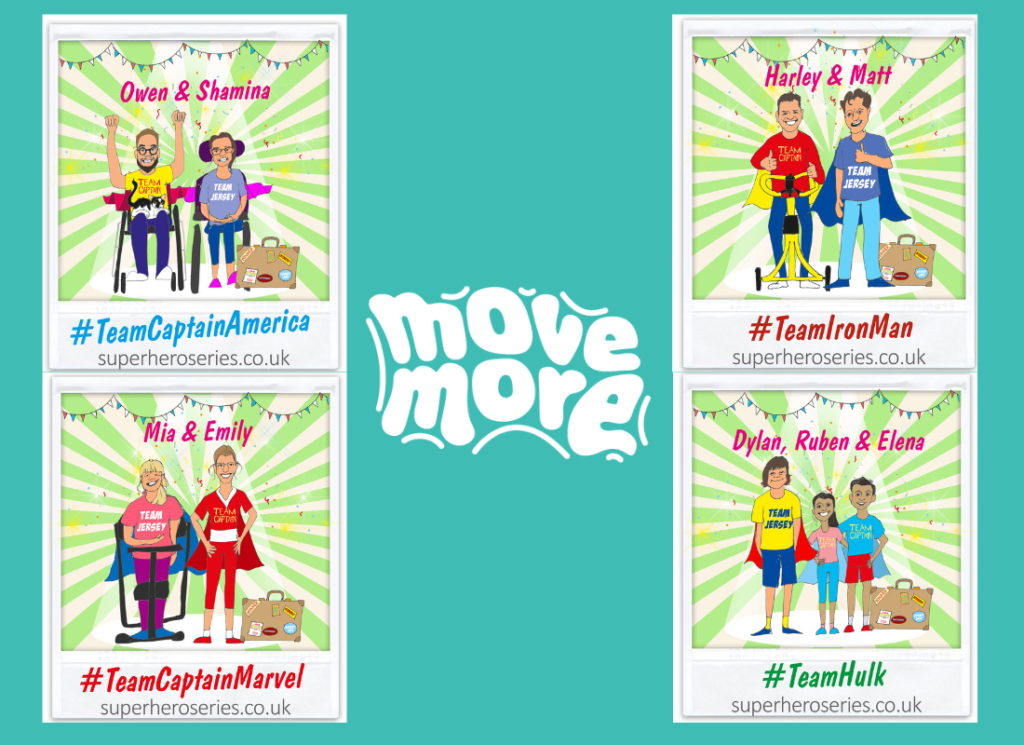 HOW TO SUBMIT YOUR MILEAGE
Everyone to takes part in the challenge should log their km's and enter them via the following links to feature on the overall leader board:
Team Captain Marvel (Captains: Mia and Emily)
Team Iron Man (Captains Matt and Harley)
Team Captain America (Captains Shamina, Owen and Oreo)
 Team Hulk (Captains Dylan, Elena and Ruben)
Here are some 'At Home' FAQs to help answer any questions you may have:
We hope you have a great time being a Superhero and please don't forget to share your mission photos with us, using #MoveMoreJersey and #AtHomeSuperheroes