Move More Sofa2Saddle is FREE and for islanders who can ride a bicycle, but need support to feel more confident when riding.
The programme is run over six weeks and is for anyone over 17 years, with any type of bike.
The programme is designed to take you from 0km-16km along routes predominantly on flat terrain, traffic free, quiet lanes, with introductions to small inclines and decants.
MOVE MORE SOFA2SADDLE IS FOR:
Anyone over the age of 17 years old
People who can ride a bicycle but need some support to increase their confidence when riding
Anyone looking to make new friendships – our programmes are sociable and great if you enjoy the company of others
Our programme is led by our friendly and qualified ride leaders who have undertaken the British Cycling Ride Leaders course and are experienced in supporting people throughout their journey.
Move More Sofa2Saddle Programme Guide
Sofa2Saddle sessions will take place on the following dates:
Programme – 15 August – 19 September at La Frégate 
| | | |
| --- | --- | --- |
| Date | Time | Where |
| 15/08/23 | 18:00 – 19:00 | La Frégate |
| 22/08/23 | 18:00 – 19:00 | La Frégate |
| 29/08/23 | 18:00 – 19:00 | La Frégate |
| 05/09/23 | 18:00 – 19:00 | La Frégate |
| 12/09/23 | 18:00 – 19:30 | La Frégate |
| 19/09/23 | 18:00 – 19:30 | La Frégate |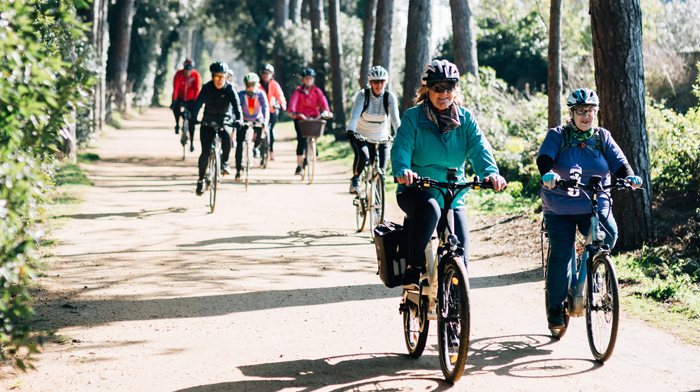 HOW MUCH DOES IS COST?
Move More Sofa2Saddle sessions are FREE!
WHAT DO I NEED TO BRING?
You will be required to bring a roadworthy bike, a helmet that fits you correctly and one that is free from cracks, and your own water bottle.
WHAT SHOULD I WEAR?
Please bring weather appropriate clothing to the session. We encourage gloves/warm jackets that can be zipped up for cold weather and waterproof clothing in case it rains. For sunny days please bring sun protection e.g., sunscreen and light layers as well as plenty of water.
We highly suggest you don't wear loose items such as a skirt, baggy trousers, and unzipped jackets as these are not suitable for cycling.
IS THE PROGRAMME WEATHER DEPENDANT?
Please note due to the nature of these sessions they will be weather dependant. Should the wind/rain be dangerously strong on the day causing a hazard, coaches will decide whether the session is safe to go ahead. If the coaches judge the weather to be unsafe to ride in, you will be informed a minimum of 2 hours before the session start time. 
CAN I HIRE A BIKE OR HELMET?
We highly encourage you to bring your own bike if you have access to one. However, if you don't have a bike, Jersey Sport has a small fleet of bikes available for loan upon prior request, on a first come, first served basis.
If you would like to hire a bike or helmet in order to participate in our Move More Sofa2Saddle programme, please contact our Jersey Sport Cycling team by emailing: CycleTeam@Jerseysport.je and include information such as your height, inside leg length and the dates/course you will be attending.
HOW TO BOOK
Before you attend your first session, you will need to register by completing the online registration form through the Move More Jersey Hub which you can find here:
Once you have submitted your details, our Move More Jersey team will then be in touch to confirm your booking.
IMPORTANT: If you have a health condition, or take medication that may affect your ability to participate in our cycling programme, we recommend that you see your GP for a medical check-up before starting out.
WE LOOK FORWARD TO CYCLING WITH YOU!