Move More Adult Learn to Ride is FREE and for beginner riders who cannot yet pedal a bike or are extremely unconfident in doing so. 
The sessions start from the very basics of preparing yourself and the cycle, getting on and off the and progressing towards learning how to balance and pedal independently. The course will also cover the listed bike handling skills: 
Starting and stopping with control

 

Controlling speed and avoiding obstacles

 

Taking each hand off the handlebars with control

 

Looking behind whilst riding in a straight line 

 

Using your gears appropriately

 

Performing U-Turns 

 

Riding in singles and pairs as part of a group

 
It doesn't matter if you haven't cycled before, we're here to help and support you at the start of your cycling journey. Our classes are a great way for you to meet new people, and a great way to improve your fitness.
Move More Learn to Ride is for:
Anyone over the age of 17 years old
People who have never cycled before and need support to get started
Anyone looking to make new friendships – our programmes are sociable and great if you enjoy the company of others
About Adult Learn to Ride
The course runs over a six week period with the first four weeks focusing on balance skills, bike handling and control leading into the final two weeks which feature a short, guided ride- all held in a traffic free environment.  
The first session will be one hour and a half, and then each session to follow will run for one hour.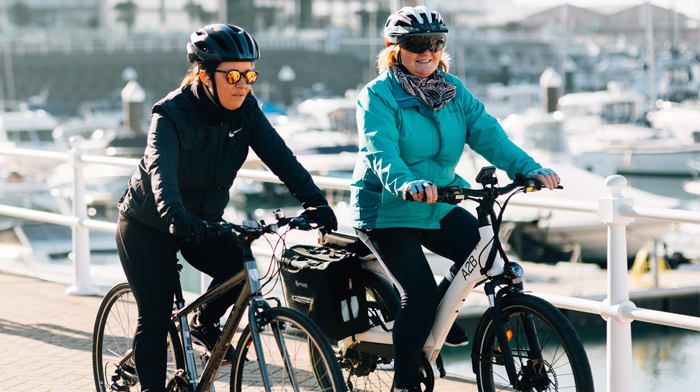 Learn to Ride sessions will take place on the following dates:
Programme: 4 July – 8 August 2023 at La Frigate 
| | | |
| --- | --- | --- |
| Date | Time | Where |
| 04/07/23 | 18:00 – 19:30 | La Frigate |
| 11/07/23 | 18:00 – 19:30 | La Frigate |
| 18/07/23 | 18:00 – 19:30 | La Frigate |
| 25/07/23 | 18:00 – 19:30 | La Frigate |
| 01/08/23 | 18:00 – 19:30 | La Frigate start point – Guided Ride |
| 08/08/23 | 18:00 – 19:30 | La Frigate start point – Guided Ride |
How much does is cost?
All Learn to Ride sessions are FREE!
What do I need to bring?
You will be required to bring a roadworthy bike, a helmet that fits you correctly and one that is free from cracks, and your own water bottle.
What should I wear?
Please bring weather appropriate clothing to the session. We encourage gloves/warm jackets that can be zipped up for cold weather and waterproof clothing in case it rains. For sunny days please bring sun protection e.g., sunscreen and light layers as well as plenty of water.
We highly suggest you don't wear loose items such as a skirt, baggy trousers, and unzipped jackets as these are not suitable for cycling.
Is the programme weather dependant?
Please note due to the nature of these sessions they will be weather dependant. Should the wind/rain be dangerously strong on the day causing a hazard, coaches will decide whether the session is safe to go ahead. If the coaches judge the weather to be unsafe to ride in, you will be informed a minimum of 2 hours before the session start time. 
Can I hire a bike or helmet?
We highly encourage you to bring your own bike if you have access to one. However, if you don't have a bike, Jersey Sport has a small fleet of bikes available for loan upon prior request, on a first come, first served basis.
If you would like to hire a bike or helmet in order to participate in our Learn to Ride programme, please contact our Jersey Sport Cycling team by emailing: CycleTeam@Jerseysport.je and include information such as your height, inside leg length and the dates/course you will be attending.
How to book
Before you attend your first session, you will need to register by completing the online registration form through the Move More Jersey Hub which you can find here:
Once you have submitted your details, our Move More Jersey team will then be in touch to confirm your booking.
IMPORTANT: If you have a health condition, or take medication that may affect your ability to participate in our cycling programme, we recommend that you see your GP for a medical check-up before starting out.
WE LOOK FORWARD TO CYCLING WITH YOU!