We've pulled together a few ideas to help your children work on all aspects of their physical wellbeing. Even if they don't like sport, or can't get outside into a big space, there's plenty of simple, fun activities they can enjoy  – just take a look below!
Please note: always listen to the guidance of the coach in the video, follow any instructions properly and ensure you exercise in a safe space, with appropriate clothing and footwear.
Flexibility Games
We're at the peak of our flexibility powers during childhood, however, just like a car, if we don't service them regularly, their powers lessen (especially in the case of boys). During sedentary behaviour over a sustained period (as may happen during a COVID-19 lockdown scenario), our muscles are at the greatest risk of injury. Below are some fun and engaging games which are easy to do. Don't worry about looking silly – you're looking after your body and setting yourself up for a healthier life.
Our Quick Coaching Tips:
• Breathe out as you stretch
• Don't hold a stretch that hurts
• Release a stretch slowly

P.E with Joe Wicks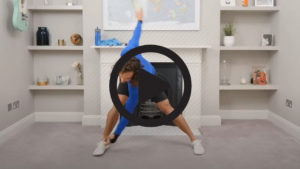 Daily workouts from The Body Coach, Joe Wicks
Fun games for all areas of physical well-being
We understand that parents, grandparents and child carers are likely to be busy working from home and may not be able to dedicate specific time to helping their children get active. The activities listed in the video links below are fun based and less focused on development. They can be adapted to suit any age (and yes mums and dads, you can have a go too!).