WALKING IN WINTER
Going for a walk during the winter months may not be as appealing as going for a walk in warmer weather, but with the right clothing and preparation, you'll discover that any weather can be walking weather.
You may think it's too cold or too wet to walk, but breathing in the fresh air will really give you a boost, both physically and mentally.
Even a brisk ten-minute walk can make a huge difference to your health – it gets your heart pumping faster, can make you feel more energetic and can improve your mood. Over time, brisk walking can help to lower the risk of serious illnesses like heart disease and type 2 diabetes.
It's simple to fit into everyday life too. You could start walking to work, walk your children to school, go for a walk at lunchtime, take longer walks at the weekend, take your dog for a walk, walk along our beautiful country lanes, or take in the coastline walking along the beach. Why not arrange to meet a friend at a local landmark or coffee shop and go for a walk around the area? If you're working from home, even a ten-minute walk in the fresh air around the block will help reset your mind and help you regain focus.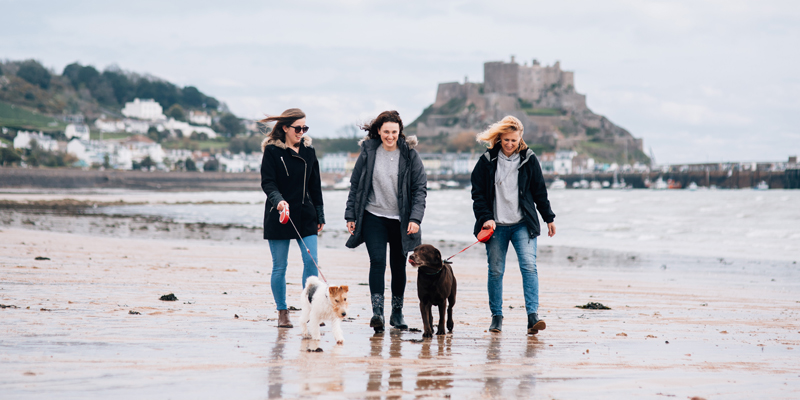 Always dress appropriately for the weather, take your mobile and always let someone know what route you'll be taking and how long you expect to be gone for. Walk with a friend, your dog, family members or join a walking group and you'll enjoy the social aspects of walking too.
Using an exercise tracking device when you walk, will help you see results – from the number of steps and calories burned, to the distance covered. Using something like this will also help you stick to a routine, as you monitor the amount of exercise you're doing and try to gradually increase your fitness. If you own a smart phone, there are many helpful apps which can do this for you.
Remember to keep hydrated too! You may not be sweating as much as you would do in the summer, but you still need to drink water on long walks. You could try using a cold-resistant flask and taking warm water with you when walking, to give you a little extra warming pick-me-up.
7 GOOD REASONS TO WALK IN WINTER
It's great exercise for maintaining a healthy weight.
It can boost your levels of vitamin D. Walking on a sunny winter's day will expose you to vitamin D – which is vital for maintaining a healthy heart and bones.
It has a mood lifting effect. Country walks in particular have been shown to reduce symptoms of depression and raise self-esteem (Mind).
It's low impact exercise.
It helps you burn more calories (walking in colder weather).
It's sociable and you could make new friends by joining a walking group.
It's free! And if you walk to work, it can save you money on travel and car parking charges.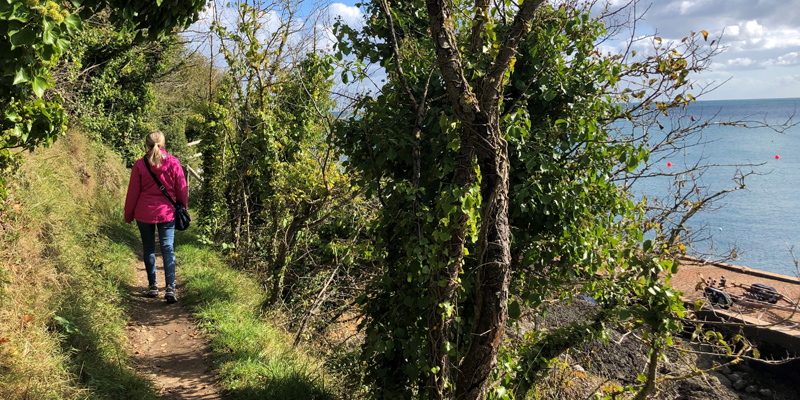 MOVE MORE WALKS
Our Move More Walks are short, easy walks designed to improve mental and physical wellbeing and provide the opportunity for support and encouragement to walk. This is especially useful for those with lower physical ability or long-term health conditions.
Each walk is led by fully trained and friendly walk leaders who are highly experienced in supporting people to get started. All walks are free of charge and range in length from roughly 30 to 1 hour 45 minutes. There are four ability levels – find out more:
WALKING ROUTES
Here's just a selection of walking routes around the island you could try:
The National Trust for Jersey encourages everyone to explore the Island's spectacular wildlife, history and heritage. They maintain an extensive network of footpaths for people to enjoy walking through natural habitats such as coastline, valleys, woodland and heathland:
NATIONAL TRUST FOR JERSEY WALKS
Discover the island on foot and learn more about local heritage on Jersey Heritage's walks, trails and tours:
Explore the Island's local history and stories through Jersey Heritage's self-guided 'On Tap' walks, starting and finishing at local pubs and cafes:
The island is just as beautiful to explore on foot in winter. Take a look at the selection of Visit Jersey's self-guided walks around the island:
WHAT TO WEAR
You'll need to wear warmer clothing to walk outside during winter. The trick is to stay warm whilst walking, without sweating too much.
Dress in layers. Wear a base layer made from a fabric that keeps moisture away from your skin, then wear a middle layer that provides warmth, like a fleece. Over the top wear a warm, lightweight, waterproof jacket to help block out the wind and rain. There are several lightweight, high-tech materials that can help you stay warm and dry, like Thermax, Thinsulate, and Polypropylene.
The key to staying warm when walking in colder temperatures is to stay dry — and that's what layering helps you do. By removing layers as you warm up, you'll avoid excessive sweating, which can cause you to become chilled, especially later in your walk. You can then replace layers as you cool down to remain warm.
If you're walking after dusk, always wear bright clothing with reflective materials so you can be seen easily. Take a torch or wear a headlamp if you're walking in areas with no street lights.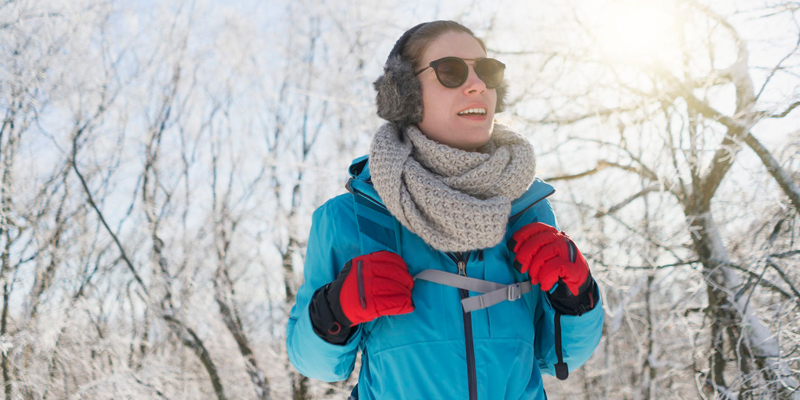 You'll also want to wear gloves to protect your fingers from the cold and a hat to prevent losing body heat from the top of your head. If it's very cold, cover your nose and mouth loosely with a scarf to help cut down the sting from the cold air. This is particularly important if you have asthma or breathing problems.
Wearing ankle-high, water-resistant footwear can provide some support for your ankles and help protect your feet from rain, puddles and wet leaves during winter. Your shoes or boots should be comfortable and water-resistant, with a grip sole to avoid slipping. You should also wear a pair of warm socks.
When walking in winter sunshine, it's also a good idea to wear sunscreen with an SPF of 15 or higher, and lip balm with sun protection. The cold winter air can dry out your skin.
GET MOVING
If you're interested in walking more this winter, here are some more useful ideas to get you moving:
Explore the Island's local history and stories through Jersey Heritage's walks, trails and yours, including their self-guided 'On Tap' walk series.
This 5km walk is simple and easy, non-competitive, non-judgemental, encourages conversation and allows you to escape the treadmill of life.
Jersey has a network of paths across public and private land in some of the Island's most beautiful landscapes. Take a look at the Government of Jersey's Countryside Access Map: