CYCLING IN WINTER
Cycling is an outdoor activity that can be enjoyed all year round. Good weather and long sunny days are two of the biggest motivators when it comes to getting on a bike and cycling… and it's a great way to keep fit!
But as winter draws in, and the days get colder and darker, sometimes it's hard to find the motivation to ride. Our inner dialogue kicks in and we start thinking about all the reasons to not cycle, like:
"It's too cold. I can't cycle to work in this weather."
"It is raining – the roads will be too slippery."
"It's pitch black by 3:30pm. I couldn't possibly ride in the dark."
These might be some of the things we tell ourselves, when really, cycling in winter is just as fun and beneficial for you as cycling in warmer weather. Cycling in the cold also gives you a good reason to stop off at a coffee shop for a hot chocolate!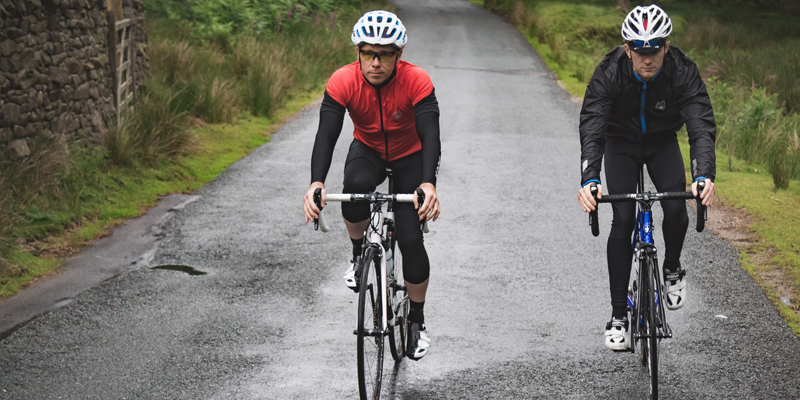 7 GOOD REASONS TO CYCLE IN WINTER
1.  It helps you maintain good mental health. Cycling helps to combat the winter blues and seasonal mood disorders. Getting outdoors, breathing in the fresh air and taking in the beautiful island scenery, really works wonders for the soul.
2.  It helps to keep you trim. You burn more calories cycling during winter, as your body has to work harder to keep you warm whilst you are outside. The extra burn may not be huge on its own, but when accumulated over consecutive cycle rides, it soon adds up.
3.  It's easy to sustain comfortably. You can cycle for as long as you want, when you want. That ease of access means you can choose when to get out and about on your bike, which helps supress any feelings of isolation. Getting into a routine will help you maintain staying active more easily.
4.  It saves you money. If you cycle to work or for leisure, you can save some money on parking, bus fares, petrol re-fills, plus wear and tear on your car – so get on your bike!
5.  It can help beat the traffic. Cycling along dedicated cycle paths and network lanes can help prevent you from being stuck in traffic jams on your daily commute.
6.  It's easy with a battery-power assisted E-bike.  Electric bikes are great alternatives to cars, and will help you climb hills easily on two wheels. Contact your local bike shop to find out more – you could even take one out on a short term rental, or try using one of the EVie Bikes dotted around the island.
7.  It's good for you!
MEET CLAIRE, THE (INITIALLY) VERY RELUCTANT CYCLIST
When Claire first considered joining the ladies' cycle group, Breeze Jersey, she was worried about what she'd look like, about holding the group up, making a fool of herself and not being fit enough to be part of a cycling group.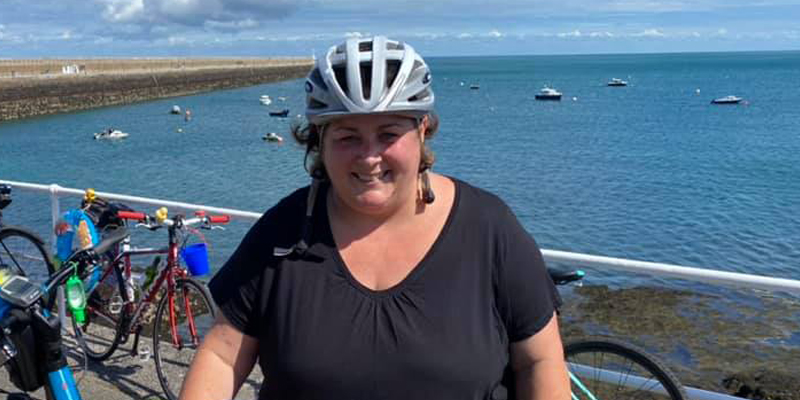 Fast forward a year and Claire didn't even recognise herself! After joining the cycling group, her confidence grew, and her anxieties mattered less and less to her. She was overwhelmed by the encouragement and support she received from her fellow riders and how much she was enjoying cycling.
"This time last year I would have never imagined that I would own a bike, enjoy exercising and be on my way to getting over some of the barriers that have prevented me from getting out there and moving more for so many years!"
Breeze Jersey provided Claire with the safe, non-judgemental, all-inclusive and fun environment that she needed to help her get over a lot of her hurdles and barriers. It let her exercise in a way she was comfortable with and that she enjoyed. She also made some incredible friends, all on their own journeys, with their own stories to tell.
Find out more about Claire's journey, how she got into cycling and why she now has a love for it. Read her story: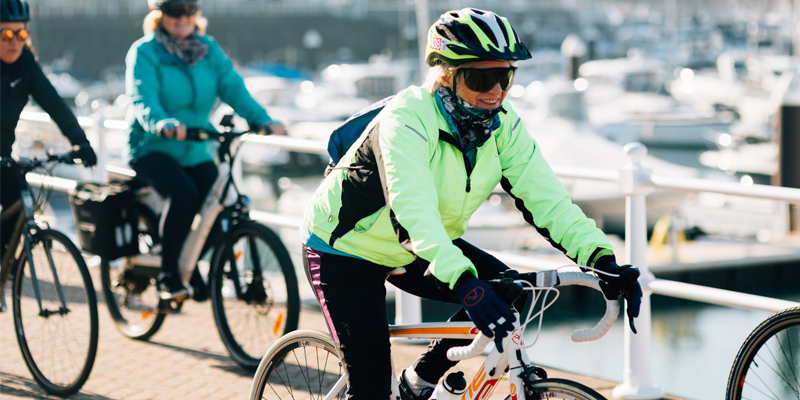 5 TOP TIPS FOR CYCLING IN WINTER
It doesn't matter if you're a hard-core seasoned cyclist, or if you are venturing out on your first winter ride – any situation is manageable if you are prepared for it.
Here's our top tips for cycling in the winter weather:
1.Check the weather forecast and think about how it may impact your journey. You may have to change your route accordingly, take a change of clothes or take extra provisions with you. Think about the cooler temperatures and any rain forecast before heading out and dress appropriately. Ensure you consider the wind conditions, as cycling in windy conditions can be unsafe, especially on some of the island's more exposed coastal roads.  As a rule of thumb, we would advise not to go out cycling if the wind arrows are black on the BBC Weather app!
2.Wear a cycle helmet. Cycle helmets are not mandatory (except for children aged 13 years old and under, who must wear them by law) however, we would recommend that you wear a helmet.
3.Take your lights, mobile and money with you. It doesn't matter how far you are cycling, or for how long. Make sure your mobile is charged before you leave the house, check your bike lights work and carry some money with you, in case you need a hot drink on route.
4.Check your bike BEFORE EVERY RIDE! Winter weather can sometimes take its toll on your bicycle components, so it's always important to carry out a quick check on your bike before you head out. Check your brakes work and your brake blocks or pads aren't wearing thin. Check your tyres are well inflated and have plenty of tread left on them. Don't worry about getting a puncture – you may not know how to repair one, but if you carry a spare inner tube and an inflator, you may come across someone who knows what to do, or you can call someone to help. We would recommend undertaking an 'M' check on your bike before every ride.  Here's some advice on how to do this:
M CHECK YOUR BIKE
5.Plan your journey and communicate. Let someone know when you're heading out on your bike, where you're going and when you expect to return.
STAYING SAFE ON THE ROADS
Your brakes must be in good working order and you must have a bell fitted to your bike that works.
After dusk and at night, put your lights on. You should have a white light at the front of your bike and a red one at the back. You should also have a red reflector at the back of your bike, pedal reflectors, plus a white reflector at the front and one on each wheel.
Wear bright, reflective clothing suitable for the distance and weather you're cycling in. Wear a cycle helmet.
Don't cycle on pavements, unless there is a sign to say you can.
You must not ride more than two abreast (no more than two cyclists next to each other) on a main road.
Follow all traffic signs in the Highway Code.
You must be over 14 years old to ride an electric bike and the maximum speed you can travel on it is 15mph.
Don't forget – adults and teenagers can be prosecuted for riding a bike under the influence of alcohol or drugs – so DON'T DRINK AND RIDE!
LOOKING AFTER YOUR BIKE IN WINTER 
With a little bit of basic maintenance, you can slow down any wear and tear on your bike and enjoy your winter rides. Here's some tips to help you out:
1. Wash your bike frequently. Gentle rinsing with warm water and a bit of bike cleaner will get rid of any salt and grit, without the need for intensive scrubbing. Don't use a power hose! Stay away from de-greasers and heavy-duty detergents, as these will drive lubricant and grease away from parts of your bike that need to remain lubricated. If your bike needs a deep clean, you can always take it to your local bike shop for a professional service.
2. Lubrication is important. Spend some time learning how to properly lubricate your bike chain. Choose a lubricant that is designed for winter riding or wet weather, like solid wax or suspended wax lubricant. When applied correctly, they create a long-lasting protective layer over the components. It's good practice to replace your chain on a regular basis as it stretches. Riding with a worn chain may make your gears skip and cause problems with other parts of your bike. You can always get your local bike shop to check it for you.
3. Keep your bike dry. Dry your bike well after you wash it, or after coming back from a wet ride. If you can't store your bike inside, think about purchasing a soft portable bike cover to keep it dry in wet weather.
4. Put some mudguards on your bike, if you don't already have any. Fitting mudguards to the front and rear wheels not only stops spray and muck from the road flying upwards and getting your clothes dirty, but it also stops the same muck from getting into some of your bike's moving parts.
5. Keep an eye on your brake surfaces and brake blocks. When you're washing your bike, if you can, take the wheels off and clean the braking surfaces, the rim, and the brake blocks (if your bike has that style of brakes). If you have disc brakes, you may need specialist cleaning products like isopropyl alcohol to do the job. Always pay attention to the thickness you have left on your brake blocks or pads – they may need replacing.
6. Inspect your tyres. In winter, it's a good idea to have robust and puncture proof tyres. More debris on the road and less visibility can increase your likelihood of getting a puncture. You also need to check your tyre pressure frequently. Cold temperatures can make the air inside your tyres shrink, making your tyres feel deflated, so you may need to inflate them more regularly.
7. Get your bike serviced. If you're not sure about tackling bike maintenance yourself, take your bike to a local bike shop to do it for you. Most local bike shops will assess your bike for free and let you know what parts need attention or replacing.
GET MOVING!
If you're interested in cycling, here are some useful links to help get you moving:
By joining a Breeze Jersey or Guided Ride, you'll discover new places to ride, gain confidence on your bike, make new friends and do things you never knew you could.
Cycle Without Limits is Jersey's first inclusive cycling centre. We have a range of adapted cycles that allow adults and children with disabilities or mobility issues, to enjoy riding in a safe, outdoor space. Our sessions are inclusive for disabled people and their families, carers or friends to enjoy.
We also offer Learn To Ride courses – look out for them starting again next year.