Week 1 – The first attempt
It's a cold Saturday morning in early January and I'm checking the tides as I usually would do before going for a walk.
Today it's different. I'm going to start running! Inspired to get motivated by the new year and reading about RED January I thought it's about time I got my act together and gave it a go. I mean, how hard could it really be? I've seen other people do it – why not me?
I'd heard of the Couch to 5K programme before and assumed that would be the best place to start. On downloading the app, was delighted to find out I could choose the voice and personality of my coach, so I chose Sarah Millican – she should be able to throw a bit of humour into the situation!
Now, what to wear? It's cold out there, but sunny. Starting from the bottom, working my way up… decent trainers, sport socks, leggings (so I can move), support bra, vest top, thermal fleecy top and short padded jacket. Oh, woolly hat and fingerless gloves. That should do the trick.
So, I was geared up and ready to start. Nervous, but excited. I'd told all my friends I was about to embark on my running journey – they were pleased for me and encouraging – so there was no going back now!
Stood in my usual spot I'd start my after work/ weekend walk from, headphones went in and I opened the Couch to 5K app on my mobile. I'd decided to wear my sunnies too – that way any passing dog walkers wouldn't be able to see the expression on my trying-to-run-face so easily. In my head it was just my usual walking route along the beach, but speeded up a bit.
After a brisk walking warm up, the count down started to the run. Or as Sarah's voice over advised in my ears, it was more of a jog than a run. I could do this!
First jog out of the way and I felt out of breath, but good. It may have been sunny, but the air was ice cold. I then had 90 seconds to get my breath back before my next burst of 60 seconds jogging. I've always panicked breathed when trying to run, so I used the short walk in between jogs to really think about my breathing – breathing in from my nose and out through my mouth. Or at least that was how I thought you're supposed to do it.
The drill continued along the beach, which was hard going in the softer sand, but the views more than made up for the effort I was putting in. The tide was coming in and the sun was shinning! All the inspiration I needed. A bell rang at half time to signal to turn around and make my way back along the route I had walked/jogged. Half-way already! My legs were feeling a little tired, but not too bad.
I pulled the last bit of effort out for the last jog. Think I smiled knowing it was the last jog I was going to be doing for the day! And that was it. I'd just completed 8 minutes of running time, starting from a base of zero. Not bad I thought. Two more runs like that to get in this week, then it's on to week two next Saturday. I may give myself a bit of a break and do my next run along firmer terrain – through the leafy lanes down the road. Suitably quiet, and easier to run along the tarmac (I should imagine), than the soft sand!
The next day I woke up feeling better. Maybe only a little bit 'firmer' but my body definitely felt 'lighter' and I felt good. Good for the fact that I had made the effort and started my new running journey. ????
The Girl in Pink Trainers
Week 2 – More of a jog than a run
Having completed another two walk/runs during week one, it was on to week two!
I'd tried something I'd never done before for my last walk/run, and that was exercising in the rain. Leaving at least one day's rest in between walk/runs, my last walk/run of week one fell on a miserable grey day, with non-stop drizzle. I got myself psyched up and put on a rain jacket with a draw string hood, so the minimum amount of my face was showing. Ear phones in and off I went. And I did it.
Week two and time for a change of scenery I thought, so I choose Queen's Valley. Wrapped up in my waterproof jacket, woolly hat, fingerless gloves and pink trainers, off I set.
Week two was an increase to running for 90 seconds, with a 60-second brisk walk in between. Well, it was more of a jog than a run. After hearing Sarah in my ear advising me to not go too fast at the start, I decided more of a jog than a run would be sensible – especially on the muddy, uneven terrain across the valley floor.
The air was crisp and cold, but it was sunny. As I made my way around the reservoir, passing walkers and other joggers, I took in the views and the wildlife. There was a duck contemplating flying into the water and a little robin which crossed my path several times. The scenery and friends I made along the way made the walk/jog even more enjoyable.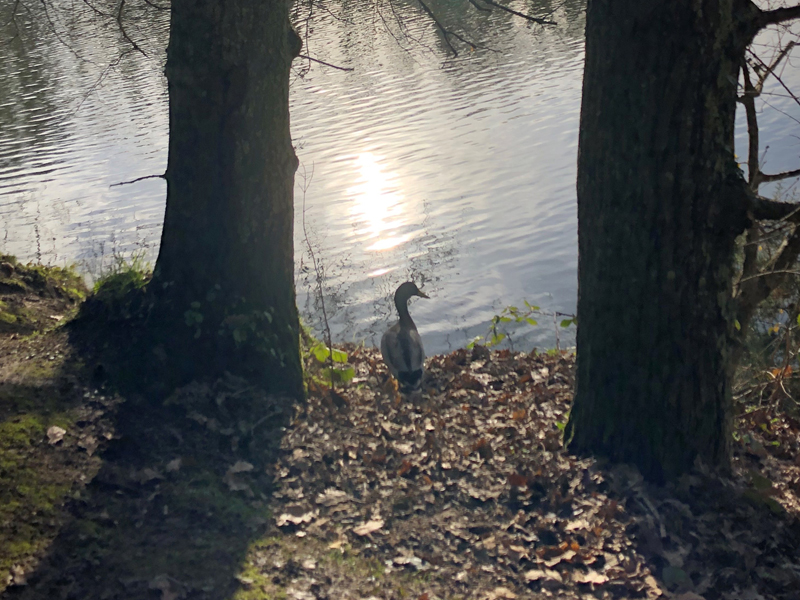 Second run of week two and I called for a little help from my friend. Running along the beach was so much easier following in her footsteps. She's an experienced runner, so she went slow, but it felt so much easier having her there (socially distanced) encouraging me on.
Third run and I discovered you can follow the Couch to 5K app and listen to your music at the same time. Result! Putting on something fast-paced and uplifting made the walk/jog more fun, and it's made me think about compiling a playlist for extra motivation!
Week two down and the third run was a lot easier. I feel like I'm making (tiny jogging steps) progress. A day's rest and it's onto week three!
The Girl in Pink Trainers
Week 3 – And it's 3 minutes of running!
I have to be honest – my last run nearly didn't happen. The morning I was due to head to Queen's Valley I could see the hail pelting down outside. The saving grace was the fact I had arranged to meet my friend who was getting back into Couch to 5K. I messaged her and she told me she was still keen to go, so we did. When we arrived, the rain stopped and we walked/jogged around the valley in the cold, but glorious sunshine!
Onto week three. And I'm still going! Usually a fair-weather walker, and with no friend to spur me on, I thought I would be kind to myself and save my run for the sunshine. The forecast for Monday was sunny (all day), so I made tracks in my lunch hour.
It was time to step it up to three minutes of running! I felt a little apprehensive when I heard I was going to be doing a 90-second run/walk then a 3-minute run/walk/run. But the sun was shining, and I was kitted up for my exercise along the beach.
Another key learning from starting the Couch to 5K is not to worry about what you look like. It's quite liberating getting dressed for walk/jog/runs in suitable attire, not worrying about what you look like. I was wearing my pink trainers, flowery leggings, rainbow fingerless gloves and a beanie hat. Not high fashion, but I didn't care! It was all about learning to run.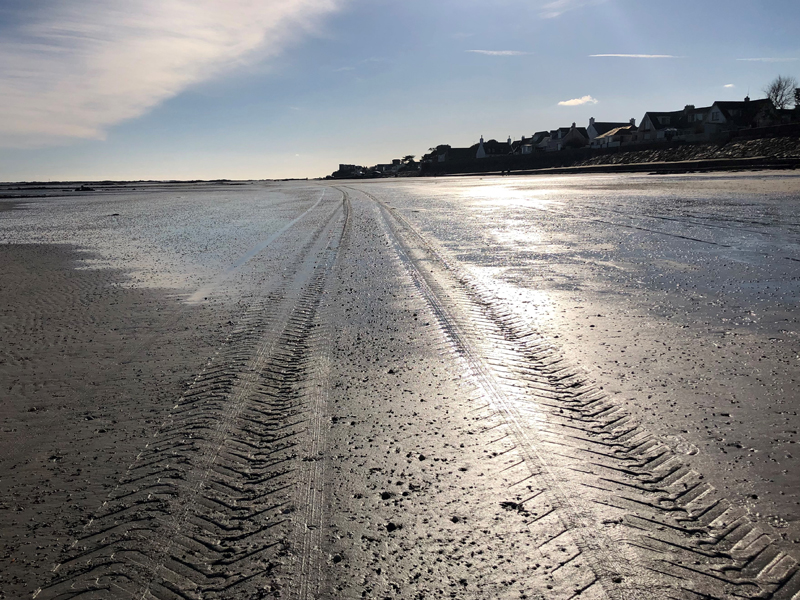 The tyre tracks running along the sand helped me to focus, as did the musical tracks in my ears. Just at the point when I was thinking "what am I doing?", The Killers reminded me to "hold on", so I did.  I ran (well jogged) my first three minutes. Three minutes! Never thought I'd be able to do that. I was out of breath, but the 3-minute walk afterwards helped me to slow down and catch my breath back.
The second 3-minute jog/run was harder. I could feel my body starting to feel like a lead weight, so I made my jogging steps tiny, but consistent. I have been trying to eat more healthy foods since starting my running journey, but obviously have some more work to do on that front and few more pounds still to shift! It's a complementary evolving process really. The more you exercise, the lighter you feel, which leads you to want to eat more healthily, which makes exercising easier. The healthier you are and feel, the more exercise you can do. It takes time and effort – but the end result of feeling better in your body is a great thing!
I've also discovered focusing on your technique whilst exercising helps. Sarah's tip in my ear was to "imagine you're running alongside a hedge with another person the other side, so they can just see your head. That person shouldn't be able to tell if you are walking or running." So, I tried to keep my back upright and my head as still as possible, as I made my way along the sunny sand in my shades.
The last walk cool-down felt great! I had just managed to jog/run for two lots of three minutes! I started this not being able to run at all. That was progress. I felt good and I felt energised for the rest of the day. 😀
The Girl in Pink Trainers
Week 4 – Who knew I could run for 5 minutes?
Two things motivated me to put my trainers on and start week 4 of the Couch to 5K. The sun was shining and my clothes were getting tighter!
The restrictions on sport and exercise in local gyms was taking its toll. For someone who was used to exercising at least four or five times a week, I was doing all I could to try and keep my fitness levels up. Deciding to leave sea swimming until it gets a bit warmer (as everyone advises, for safety reasons) running was something new I could put my energy into.
I also realised quickly, with a full-time job, the only way to actually make the runs happen was to plan them in my diary. I had to work out when I could run during the week, factoring in the weather forecast (or suitable weatherproof kit) and leaving a day's rest in between runs. Achieving three runs per week didn't leave much wiggle room.
Then there was the goal. What was my final goal? Why was I doing this? It started out as a personal challenge – never having had an interest in running or being able to run – and with nothing much else going on during the current Covid climate, setting myself a personal challenge was one way to alleviate the boredom and to help get my fitness levels back on track. A friend said to me (with a smile), "your goal should be to be able to run around Queen's Valley in one go by the end if it!" Really? At the end of this 9-week programme I could be running around the valley, without stopping, being able to breathe and not having to walk? Hmmm, let's see. I was already almost half-way through the programme, but still felt I had a lot of running progress to make!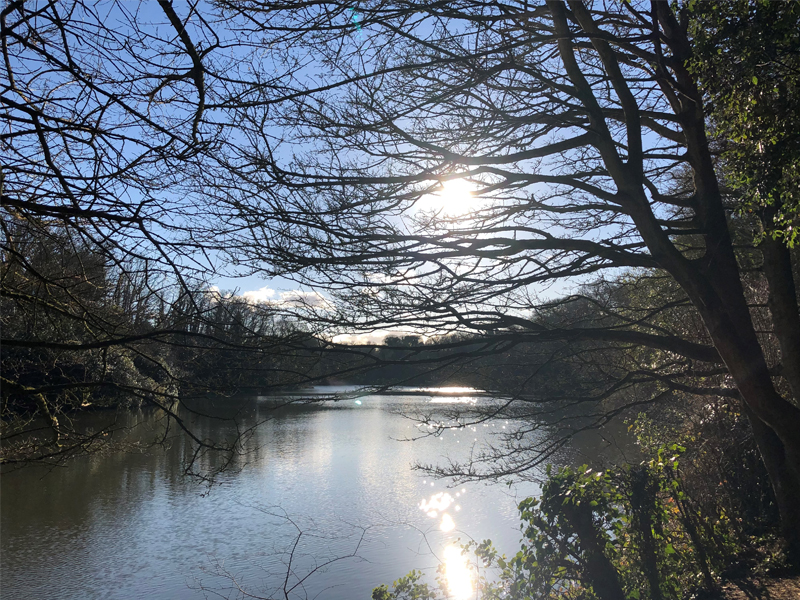 In my ear, Sarah Millican reminded me that I was now doing more running than walking during each session. I was running for two lots of five minutes during the half-hour slot. Yes, FIVE MINUTES! I'm not going to lie – the first 5-minute run was tough, but on the second, I was running back in the direction of my house (I could just about see it) – which somehow made it feel a lot easier. I was thinking after my cool down, I could sit down, have some water, then enjoy a cup of tea – with my feet up! ????
I ended week 4 of the Couch to 5K on a high – having achieved the second 5-minute run again – no matter how my body was feeling! "Well done flower, you should feel proud of yourself!". That was enough in my ear to make me think. Yes, I should feel proud of myself. I do. I feel tired… but proud!
The Girl in Pink Trainers