Islander and blogger Tina recently completed our Move More RunTogether 'Get Me Started' programme and is keen to inspire others by sharing her personal experience of the programme and physical activity journey, here is her story: 
If you think of a runner, I doubt that they would look anything like me.
I'm overweight and heading towards 60 so why on earth would I consider starting to run?
I mean, truly, why bother? I've got this far in life without running. OK, that's a fib. Like most of us, I ran freely and easily as a child and didn't always come last in the school sports day races – these were obligatory in the 1970's.
SO WHY NOW? 
I'm not athletic, have great difficulty maintaining any sort of fitness regime and really like food. Definitely not the usual candidate you'd expect to take on a 5K run.
Saying that, following some PT sessions at the end of 2019 which built my strength and stamina, in January 2020, I started training to run using a couch a 5K app. It was hard, and I didn't get more than 1.5K before my knees became swollen and painful.
The Covid lockdowns didn't help either. Like many others, I piled on weight and gained around 1.5 stone, which I have not been able to shift.
The thing is, I have a Lifetime 'To Do' list. It's not written down anyway, just in my head. Most of these aspirations are travel related, for example seeing Chichen Itza in Mexico, climbing the Sydney Harbour Bridge and watching the marine iguanas in The Galapagos.
For some reason, running 5K was also on that list.
OPPORTUNITY STRIKES
I like to grab opportunity with both hands. It's helped me cross quite a few things off that 'To Do' list.
In January 2022, I was at a course (nothing to do with running or physical activity) and happened to be sat next to a young lady who works at Jersey Sport. We got chatting and she mentioned a free RunTogether couch to 5K course that the Move More Jersey team had started for non-runners.
It sounded perfect – free; aimed at people like me; structured over 9 weeks; and lead by qualified volunteers.
Unfortunately, it had started the previous week with the next course not starting until the end of April. Knowing my own limitations, I knew I couldn't wait for three months before starting but didn't want to miss the opportunity. I asked if I could join from the second week and was delighted when she said I could.
HOW DOES A NON-RUNNER LEARN TO RUN? 
The simple answer is slow and steady progression at the speed that suits you.
I was convinced that I would not be able to run 5K but was willing to give it a good go. I discovered that many runners break down the distance into short runs with recovery walk sections. This made the goal seem more achievable.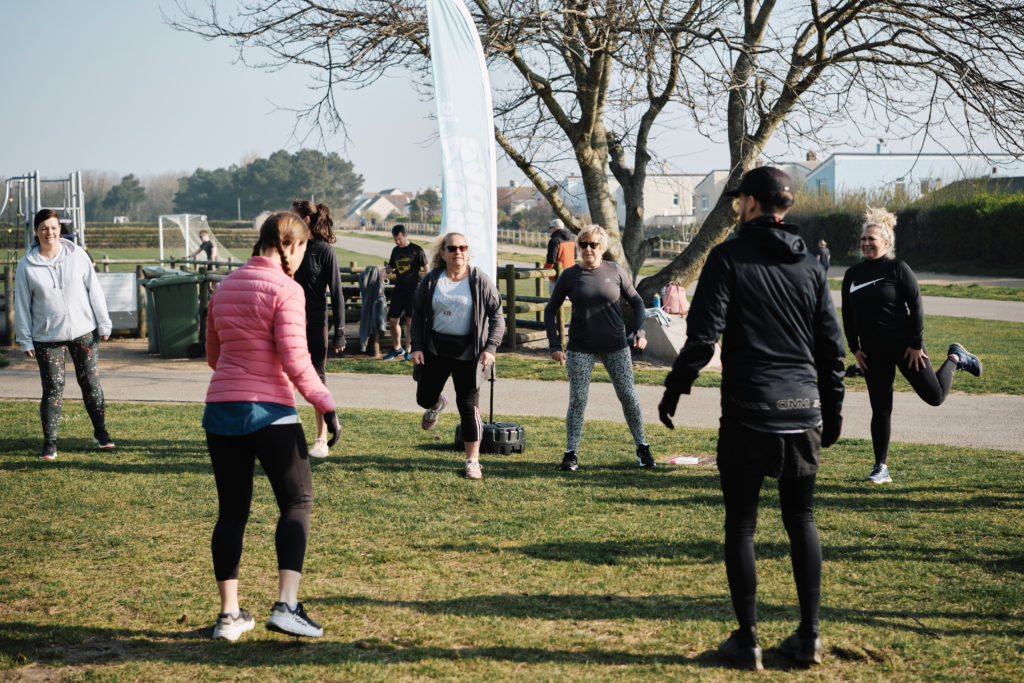 MY FIRST SESSION
The second week was starting the day after the chance meeting, so I had no time to change my mind – or find a reason not to do it. I have weak knees so the only preparation I did was to buy a couple of knee supports, which were a key element to me being able to attempt running, let alone complete 5K.
Dressed in my workout gear, with well supported knees and a water bottle, I turned up at the meeting point. I can't deny feeling a bit of trepidation and thinking that the others there were going to be the slender athletic type, but decided I was not going to let my weight stop me from trying this.
I need not have worried, as the group of Move More Jersey RunTogether volunteer leaders and other trainees were warm and welcoming.
The brisk walk to the run zone warmed me up and, being completely honest, I was already breathing a little harder than normal and thinking this was a bad idea. When the RunTogether run leader told us we would be completing 6 x 1.5-minute runs with 2-minutes recovery walks between each one, I was really worried. There was no way I was going to be able to that!
We did some warmup stretches and I teamed up with a Move More Jersey RunTogether buddy. We agreed I would do whatever I could, whether that be 30, 60 or 90 seconds but aim for a minute, as if it was week 1.
It's such a short space of time – I mean, I could get through KitKat in 90 seconds – but running seems to lengthen those seconds, and I can't explain how hard the first 30 seconds were.
THE FIGHT IS REAL
I was gasping for breath during the last half minute and could happily have stopped but I told myself 'Come on. Get to the minute'.
As I was to discover over the coming weeks, that's the key. Learning to run is as much a mental challenge as a physical one. It's the internal battle going on in your head that you have to beat.
When the first minute was up, my buddy congratulated me but I couldn't answer as I was so out of breath. It took me most of the minute walk to recover and then off we set again for another minute of running.
The only way I managed to complete the next two rounds was by distracting myself – looking at the view, focusing on my feet or just aiming for the next lamppost. Whatever it took to finish each 60-seconds run. I could only run half of the fourth round but after the recovery walk managed the fifth. I missed the last round as I had to find a loo! The nerves and excitement had got the better of me.
I could hardly believe the amount of time I had run on my very first session and three days later, I did 6 x 1-minute runs with the walking recovery breaks.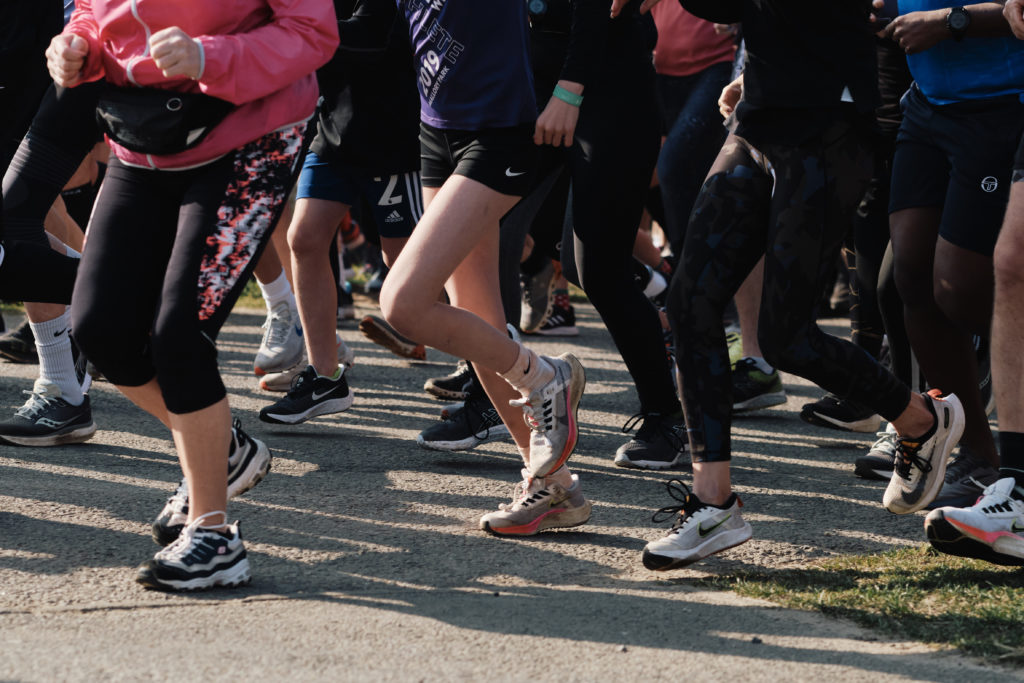 WEEKS 2 – 9
During the next few weeks, my stamina improved and the breathing techniques given to me by the run leaders helped a lot. My running times lengthened and I recovered more quickly.
It wasn't easy but it was satisfying and motivated me to want to improve at each session.
By week 4, I managed 16 minutes of running broken down in to 2 x 3-minutes run/1.5-minute walk/5-minutes run/2.5-minutes walk.
My natural stride is short so, it's fair to say, that my run looks more like a jog. I was by far the slowest in the group but it didn't matter. The most important point was that I turned up to the sessions as regularly as I could, even if the odd work commitment, illness or storm (Dudley and Eunice), slowed my progression.
The urge not to go to some sessions was strong, but I had to ignore that inner negative narrative and force myself to go. Why is it so much easier to do things that aren't good for us? When it comes to something that we know we will benefit from it seems to take almost Herculean effort to get to the start line (excuse the pun).
It was thanks to the invaluable support and enthusiasm of the Move More Jersey RunTogether volunteers that I turned up.
Having missed one session due to illness, I knew that I had to go to the next. We'd missed two already due to the storms so if I missed this one as well, I feared I might give up all together. Unfortunately, I still felt under the weather, but my run leader was thoughtful and caring and allowed me to run at the pace and time I felt I could manage. It was that sort of encouragement that enabled me to achieve a non-stop running time of 6 minutes. My longest yet.
I highly recommend downloading the Strava app, or something similar, that tracks your route, distance and time. I purposely recorded the run and walk minutes so I could see the progress I was making in actual running time too.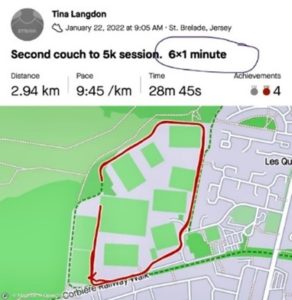 By the end of week 9, I ran my fastest 3K in a total of 24.5 minutes with only a 3-minutes walk in the middle.
I literally ran for 12.5 minutes non-stop! Me. Someone who nine weeks earlier could barely run for 30 seconds without gasping for breath.
FIRST 5K RUN – 26 MARCH 2022
It came as a shock that the following week, me and the other trainees were expected to run the 5K Jersey Parkrun. There was a definite feeling of dread with lots of self-doubt and disbelief.
Where had the time gone?
How was it possible that I was going to be running with up to 400 other runners, some finishing it in just 16 minutes?
I've only ever run 3K, how am I going to run 5K?
Yet again, it was the support of the amazing Move More Jersey volunteers that made me drive to Les Quennevais sports track that Saturday morning. I did not want to let them down at the last hurdle. Don't panic – there are no actual hurdles!
The sun was out and it was really warm for a March day. The energy coming from the other runners rubbed off and I started to feel more positive and that I might actually do this.
Teamed up with my RunTogether buddy who I had run with on multiple Saturday sessions, we lined up at the start line. I had to remind myself it was important I didn't start too quickly.
Slow and steady might not win the race but it will get me to the finish line.
9am and we were off. Two circuits of the running track (approximately 2.5K) and a local cycling/walk track known as the Railway Walk, lay ahead.
Goal – to complete my first 5K run.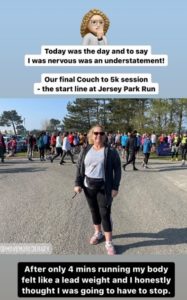 NOT THE START I HOPED FOR
The first minute went well. The adrenaline was pumping and I wasn't worried that most of the field had passed me.
However, after a couple more minutes my body started to feel really heavy. It was an odd feeling and although I only had a small water bottle (one which I had carried on every run), I suddenly felt unable to carry it. My run buddy was happy to carry it for me, together with my light hoodie, which I had to take off.
I can't explain what it felt like and I had never experienced it on any other run session. All I knew was that if I didn't find some extreme inner strength and focus hard, I was going to have stop only 500m into my run!
My Move More Jersey RunTogether buddy could see I was struggling and gently encouraged me. It honestly took every ounce of determination and, somehow, I ran for 12 minutes round the whole 1.5K running track and back through the start line.
That 2-minutes recovery walk was as welcome as the first recovery walk nine weeks earlier – but this time I had run 11 minutes more. The idea of another 12 minutes was daunting but knowing the course diverted onto the Railway Walk at around 2.5K was motivating, as I had never run there before.
3-4K
The change of scenery was just what I needed. My energy levels returned to normal, my running rhythm much stronger and more even, and, by the time we reached the 3K sign, I felt really good.
It turned out that second stretch was the longest non-stop run I had ever done – 14 minutes!
During the 2-minutes walk I was energised yet relaxed, able to chat with my buddy and a team leader who had joined us for additional support.
4K here I come. Off we went again. The terrain was softer which my legs appreciated and then we saw the sign. I had never run that far before and it galvanized me to continue towards the turning point at about 4.5K which was on a gentle downward slope.
HEADING TO THE FINISH LINE! 
We agreed that I should take a 2-minutes recovery walk for the uphill return until it levelled out again at the 200m to go sign.
The fact that I only had 500m ahead of me was so exciting and I was raring to go so, after just 30 seconds, I started running again. The slight incline didn't seem to deter me. I was homeward bound and couldn't wait to see the finish line.
As expected, I was the last trainee of our group, and it was so wonderful to see the others together with the Move More Jersey volunteers lined up near the finish line and cheering me on.
I'd done it! My first (and not last) 5k run.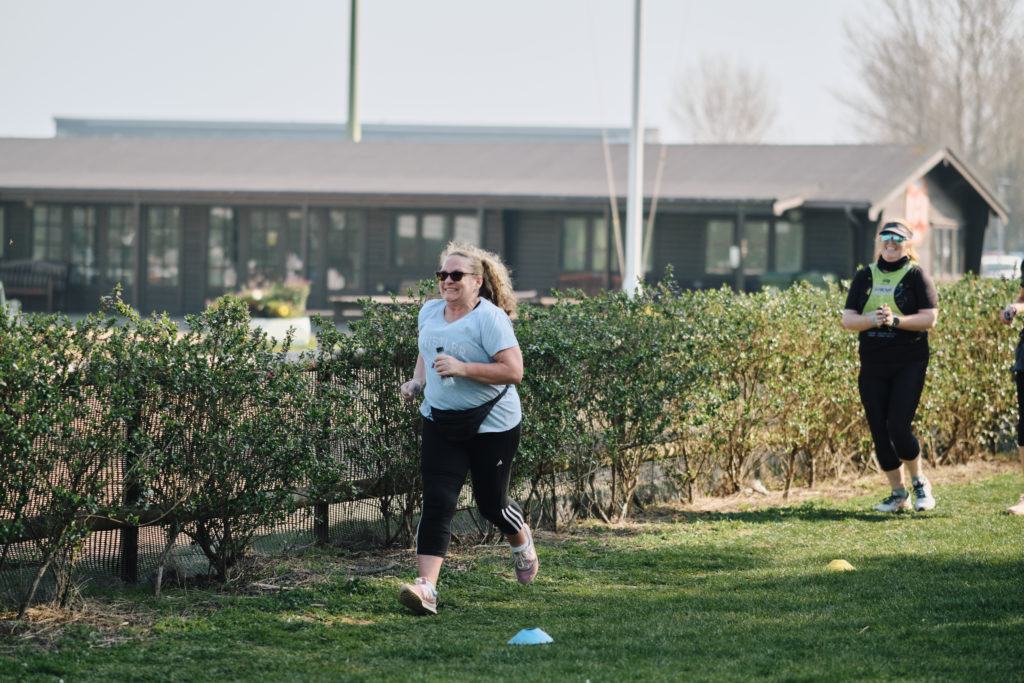 'TEAMWORK IS DREAMWORK'
The saying might be cliché but it is so appropriate for this amazing group of people.
The RunTogether team could not be more appropriately named. We trained hard together, encouraged each other, and could now celebrate our achievement together. They surprised us with a lovely medal which I proudly wore as I walked back to my car. In fact, most of the day!
The support, reassurance and camaraderie are what kept me going. It was something that I came across more and more, throughout the weeks. No matter where we trained, the cheers of "Well done"; "Keep going"; "Great work" would be shouted from other runners as they sped past us. It seems the running community, in general, is welcoming and loves seeing newbies, like me, join them.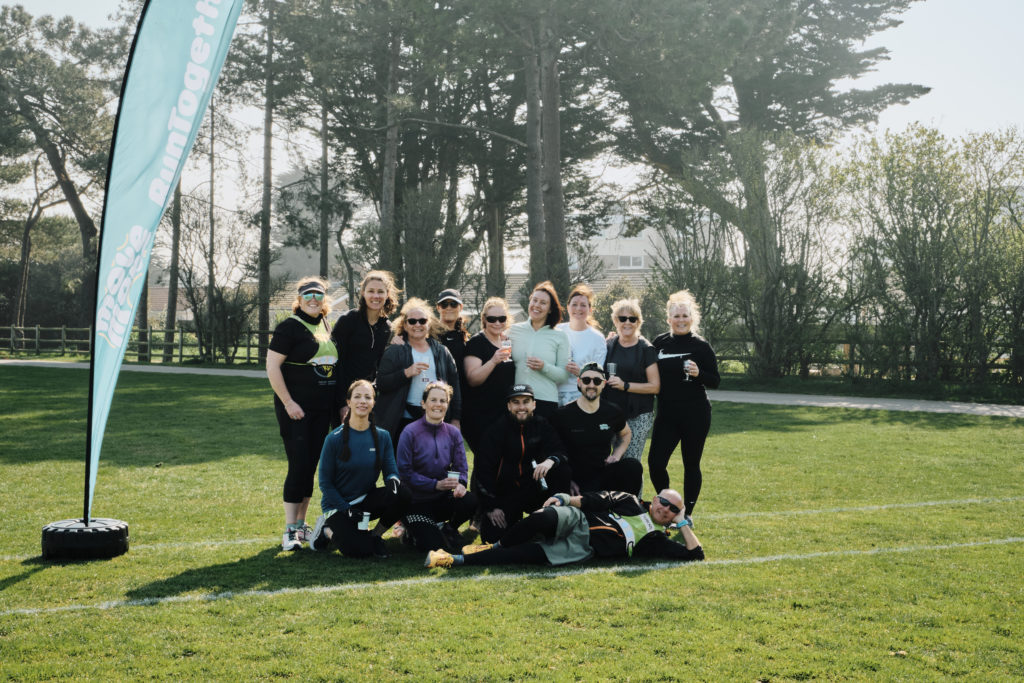 WHAT NEXT?
Well, I can now proudly say, I run.
In fact, just yesterday this was confirmed. I went for a 3K run and, as I passed a dog walker, I heard the man say to his dog, "Fancy going for a run?". I was elated.
I can't pretend that this was an easy thing to do but it does get easier. Exhausting, almost impossible, one-minute runs, become two minutes, then four minutes and after a few weeks twelve minutes.
My body moaned. One week my ankles, next week my calves, and after the 5K my hip was uncomfortable for about a week. The strange thing is that, as hard as it was, I wanted to do it again and see if I could complete a Parkrun without my run buddy.
Tina Langdon enjoys sharing her experiences of life in Jersey on her blog TinkyTooky, including ticking things of that Lifetime 'To Do' list.
GET MOVING!
If you've been inspired by Tina's story, here are some useful links to help get you moving: