Meet Ray Evans, a true inspiration to others with physical impairments and learning difficulties. Being born with Cerebral Palsy doesn't stop Ray enjoying swimming, riding an adapted cycle or doing planks and wall squats in the Move More Ability class sponsored by Jersey Mencap.
Ali Hand, a Co-ordinator from Jersey Mencap told us, "Ray is a true inspiration! He's always engaged and has made great progress over the past 18 months. His flexibility and movement have improved substantially and he always tries so hard with every exercise or activity. Everyone enjoys his friendly personality and the energy he brings to the group sessions. His determination is inspiring!"
As a child, Ray didn't learn to walk until he was 8 years old and because he was in and out of hospital with various operations, he fell behind in his education too. His parents were always encouraging and supportive and he had access to physiotherapy to support his physical development. His lifelong goal has always been to be as mobile as possible which opens up new opportunities for his independence and overall life satisfaction.
In addition to his physical struggles, Ray has suffered since his teenage years with depression and loneliness and often finds it difficult to socialise and spend time with people. That's why the Move More Ability classes are so important to Ray because they offer him the chance to exercise and socialise in a safe environment in a way that's tailored to suit his needs. Ray works with Jersey Sport instructors who adapt exercises to suit specific needs and also support individual progression in strength, mobility and flexibility.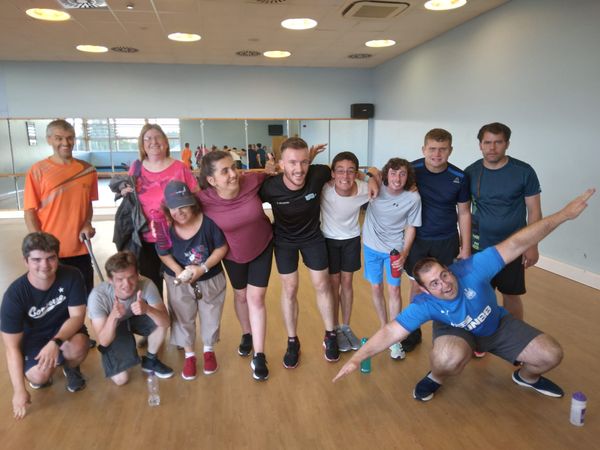 While some exercises may be uncomfortable, Ray says: "The instructors from Jersey Sport create new exercises and push me to try new things. They see my potential and encourage me to work harder. The wall squats are painful, but I like it! My goal is to be able to walk up straight and the class helps me to get closer to achieving that goal."
"After class I'm tired, but it's a good tired!"
Ray receives a few hours of help twice a week from New Horizons that enable him to go food shopping, have some help in the home and travel to and from the exercise class. However, in an ideal world, Ray would love to be able to attend more classes each week, including Boccia, and to go swimming too, but his care package doesn't have enough hours available to make this happen. Unfortunately, this is a financial and logistical issue that probably affects many islanders who rely on assistance to support them to live happy, healthy lives.
There are so many mental health benefits that come from engaging in regular physical activity and this is further enhanced when there is a social component – like exercising with a friend, a trainer or in a group. Exercise boosts endorphins in the brain which are known as 'happy hormones' and contribute to increased feelings of wellbeing, happiness and self-worth.
When Ray can't get to classes, he enjoys using an exercise bike at home and also has dumbbells to ensure he keeps improving his strength. This home equipment was especially useful to him during the COVID-19 pandemic when classes were cancelled. His other equipment of choice is EMS (Electrical Muscle Stimulation) training which stimulates muscle contractions using electrical impulses that directly stimulate the motor neurons. This type of training puts less stress on tendons and joints and can be done in a seated position, making it a perfect addition to those in wheelchairs or who can't undertake normal types of exercise.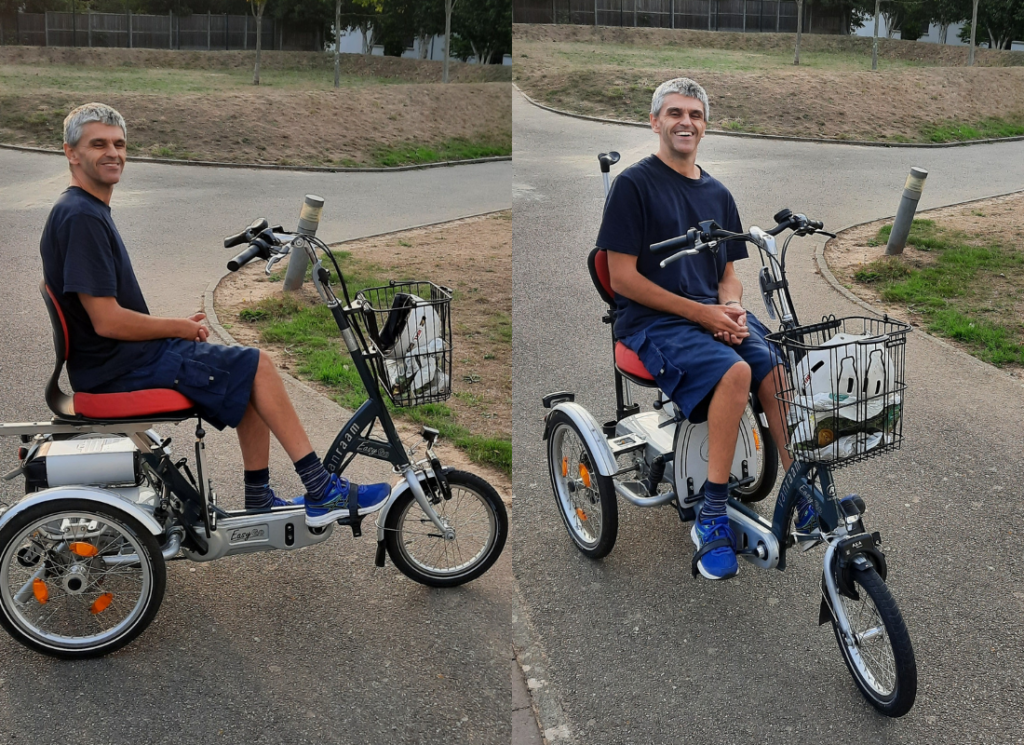 As a valued member of the Move More Ability classes and an inspiring role model to others, we asked Ray what his advice would be to others who are struggling with physical and mental health and would like to exercise more. He said: "At any age or ability just keep moving and keep trying. Always set a goal because it's not what you can do but how much you focus on trying and persevering, even when it's tough."
"Two years ago I was falling over a lot and not in a good mental state. But with the right support, I kept pushing, kept believing and kept trying and now I'm stronger, fitter, healthier and happier. And closer to my goal of being able to walk upright."
If you'd like to find out more about Move More Ability classes and other initiatives for islanders with physical difficulties and mental health conditions, please follow the links below or get in touch with your questions to Claudia.Andrade@jerseysport.je
GET MOVING!
If you've been inspired by Ray's story, here are some useful links to help get you moving: