For many people, a regular exercise routine has always been a part of their life, growing up in an active family, enjoying all kinds of sports in school and continuing these into adulthood with the addition of gym sessions or exercise classes. But for many others, exercise simply never features in their lives, often due to internal beliefs that exercise was difficult or that they weren't 'sporty' or 'good enough'. These internal beliefs shape our lives, but with the right guidance, tools and techniques, they can be overcome, allowing you to create a new reality.
This is a story that Islander Lucy knows well. At school she despised netball and PE lessons and was always trying to find excuses to get out of activities. She lived with anxiety from about the age of 11, and the physically challenging PE lessons became another source of unwanted pressure. As an adult, Lucy developed an addiction to alcohol and suffered PTSD after caring for a close friend with liver disease. The combination of all these factors and prescribed medications led Lucy to a place where she was overweight, unhealthy and unhappy.
In 2021, Lucy developed severe lower back pain caused by trapped nerves, possibly the result of a bad injury some years earlier. "I couldn't stand up with my legs straight. I was in a bad way and could hardly walk." The Probation department referred Lucy to the Move More Referral Programme to help her improve her mobility, reduce pain and allow her to be able to walk again. At the time, Lucy was skeptical. "I thought, if I can hardly walk, how am I going to be able to do exercise? But, I was proved wrong! I loved every second of it and wouldn't change a thing about it. It's now become my focus, my routine."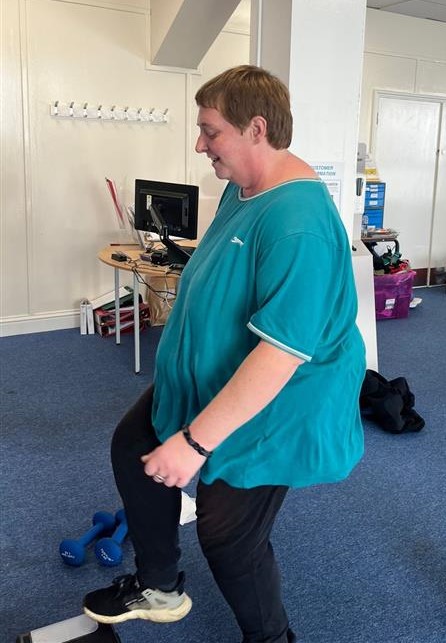 "Before my first class, I felt really, really anxious and spent an hour arguing with myself before eventually going to the session. I was anxious because I didn't know what to expect. But I'm so glad I went because otherwise I would still be suffering and in pain."
"The first session was hard because my body had never moved that way before, but the Move More Jersey Referral Instructors were amazing and I was able to do the exercises in a seated position. The class was nowhere near as difficult as the idea of it I'd had in my head!"
Over the next 8 weeks, Lucy was consistent with her exercise routine and attended all the classes, followed by another 12 week course. This had a profound impact on her physical health: "Looking back, until I had an injury I didn't realise how much I took walking for granted, I'm always on the go now."
Lucy now takes four Move More Referral classes each week, all of which are a 'circuit training' style which can be adapted to suit each individual's needs and goals and can also include progressions to continually improve fitness, strength and endurance. "It's really good fun, the instructors are amazing, supportive and encouraging and they keep challenging me. I'd love to go to the gym too because I loved the Move More gym sessions but I can't afford an Active membership. I'm very grateful for the Move More Referral classes which are free as I'm on Income Support. It's very reasonable on Pay As You Go though,  for a one hour session, and I think it's so worth it."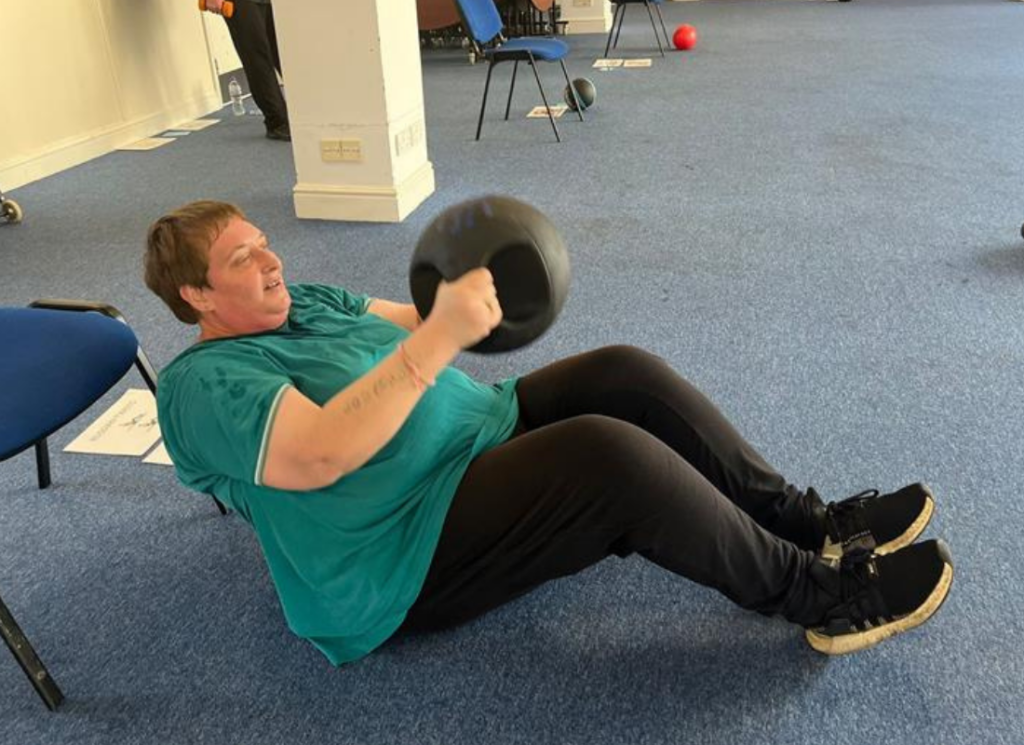 Since Lucy started Move More Referrals sessions in August 2021, she's lost eight and a half stone, walks everywhere and also volunteers at Durrell where she loves being active, outdoors and around animals. She also notes how great the Move More Jersey classes are from a social perspective: "Group exercise is great for socialising. I've met so many lovely down-to-earth people and it's lovely to stay for a cup of coffee afterwards and find out more about people's personal stories of overcoming mental or physical challenges. It can be lonely at home if you don't make the effort to get out and meet people."
Lucy is hopeful that with continued exercise and weight loss that she'll be able to reverse her Type 2 Diabetes in the next few months. She's also training to become a peer mentor with the NHS ImROC training course in Jersey which 'works in partnership with communities to develop services, systems and cultures that support recovery and wellbeing.' In the future, Lucy would also love to qualify as a personal trainer to support others with their physical and mental health through exercise.
If you've been inspired and would love to give the Move More Referral or Pay As You Go classes a try, here's Lucy's advice: "Grab it with both hands! It really has changed my life for the better. I was anxious but I'm so glad I did it! The more you step out of your comfort zone, the easier it gets. Give it a shot – it's the only thing that's ever helped my back pain and it's such good value for money. It's win win all the way with Move More Jersey!"
If you're inspired by Lucy's story and if you would like to start your fitness journey, you'll find some useful links below: