The Breeze journey of one (initially) very reluctant cyclist
Part 1
This is me on my very first Jersey Breeze Ride back in February 2019, worried about my size, what I'd look like, holding the group up, making a fool of myself and not being fit enough to be part of a cycling group.
I went along with my little fold up electric bike and had already decided that it wasn't for me before I left the house.
What I wasn't expecting, was the amazingly warm welcome that I got when I turned up and was delighted to see women and bikes of all shapes and sizes.
After the first ride to Les Quennevais and back – plus a coffee and cake stop, I was hooked, slightly breathless and very red, but hooked. I loved the feeling of being out in the fresh air with a group of likeminded fun-loving women. I couldn't believe that exercise could be so inclusive, invigorating and supportive.
My Breeze Journey had begun…

The Breeze journey of one (initially) very reluctant cyclist
Part 2
So my Breeze Journey had begun, I was hooked!
I have to admit though that whilst I loved the group, and the sense of freedom that cycling gave me, I was still very self-conscious and continued to battle with what I looked like on a bike, and it's fair to say sometimes still do.
Let's face it, I'm not your stereotypically shaped cyclist and this body was not made for Lycra!
Body image and how we look is important to most of us, and putting yourself totally out of your comfort zone and making yourself vulnerable can be very daunting – especially when you start something new. Looking the part goes a long way to helping you feel like you fit in. I totally get this having been on the larger side or curvy most my life, and this has regrettably stopped me from doing so many things. BUT, the magic of Breeze and cycling, as I discovered, is that it's not about what you wear or what shape you are, it really is about inclusion, fun, improving your fitness and promoting the fact that cycling really is for everyone. ???? ????‍♀‍
As the weeks have gone by, and as my confidence has grown, my anxieties about what people will think of someone as big as me being on a bike have mattered less and less. I have been overwhelmed by the encouragement and support I've got from my fellow "Breezettes", members of the Rouleurs (fab cycling group who also meet at the Radisson pre-ride) and other cyclists.
At the end of the day, there really is far too much beautiful scenery in Jersey to focus on whilst I'm on my bike, and too much enjoyment to be had being a Breezette, to worry if my bum looks big on my bike! Life really is too short!
Amongst the Breezettes, there's a mixture of electric and regular bikes and some of us, me included, need a little extra assistance. I'm electric and proud! Oh, and by the way, E-Bikes ARE proper bikes, you DO still have to pedal hard, the electric cuts out at approximately 15mph, and it's NOT cheating! It's simple: if I stop pedalling, I fall off!
As my confidence and love of cycling was growing, I was now cycling on the road in the group as well as the cycle paths, and was regularly doing 15 – 18 miles per ride. As well as Saturday morning rides, Sunday rides were also being considered, and my little electric fold-up bike was doing me proud, but I considered that maybe I should invest in a new bike now I was loving cycling so much. I couldn't believe I was considering this. Not only was I still loving cycling and the health benefits I was feeling, but I was now thinking about a better bike.
Who was this new me, and where did Claire go?
The hunt for my new bike had begun…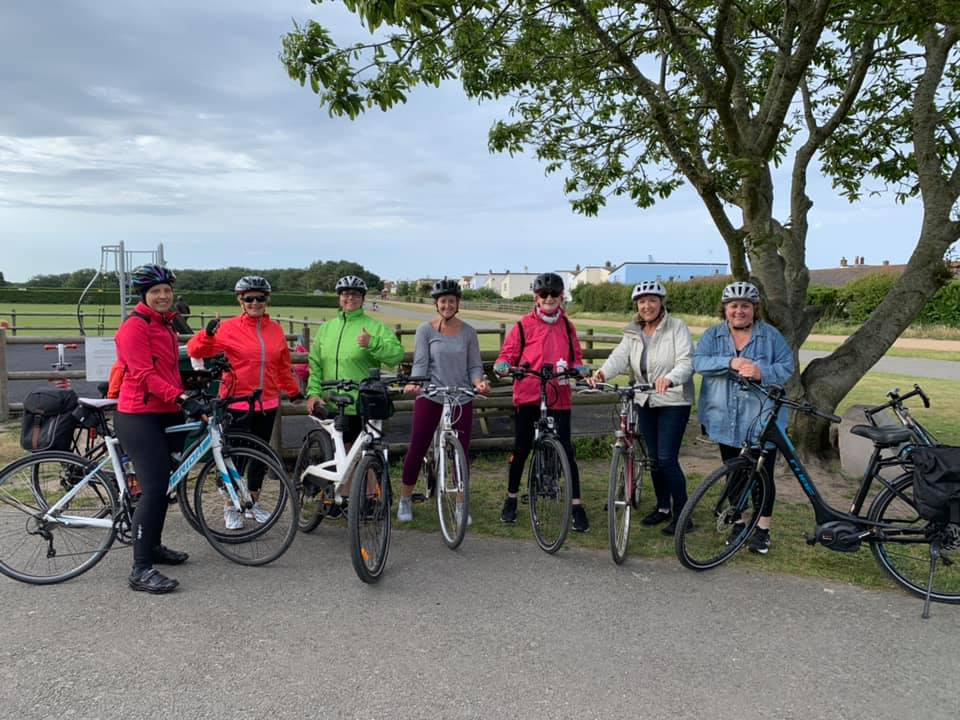 The Breeze journey of one (initially) very reluctant cyclist
Part 3
Choosing a bike can be a daunting task. There are so many out there it's hard to know where to start, and I wanted to make sure I got the right one.
There are a number of bike shops on Jersey who will give you lots of great advice. After a lot of research and help from some trusted cycling friends, my new bike arrived and apart from some minor seat adjustments, it was perfect.
My Breeze journey was going from strength to strength, I was becoming more confident cycling on the road and in a group, I could take my hands off the handlebars to signal left and right without wobbling, and my love of cycling was growing.
Myself, and a number of Breezettes took part in the HSBC Let's Ride Pop-Up event, a community based cycling day to promote the benefits of cycling. I still can't believe that I was actually involved in this – exercising in front of lots of people. But I did it and I loved it, and to top it all we each got a participants medal! A real achievement and a sense of community participation – all thanks to Jersey Breeze. What a Buzz!
Breeze is about fun as much as it's about cycling and getting healthier. So when our leader, or "Mother Duck", as she's affectionately called, suggested a Breeze weekend cycling in France, although I was very nervous, I signed up straight away, knowing that it would be brilliant fun with some of these amazing women. Me, cycling in France! Was I completely crazy? Little old me who pre-Breeze hadn't liked any form of exercise and would never have contemplated going on any kind of exercise trip! No, I wasn't crazy, I was hooked on the feeling that cycling and Jersey Breeze was giving me. The tickets for France were booked and we were on our way…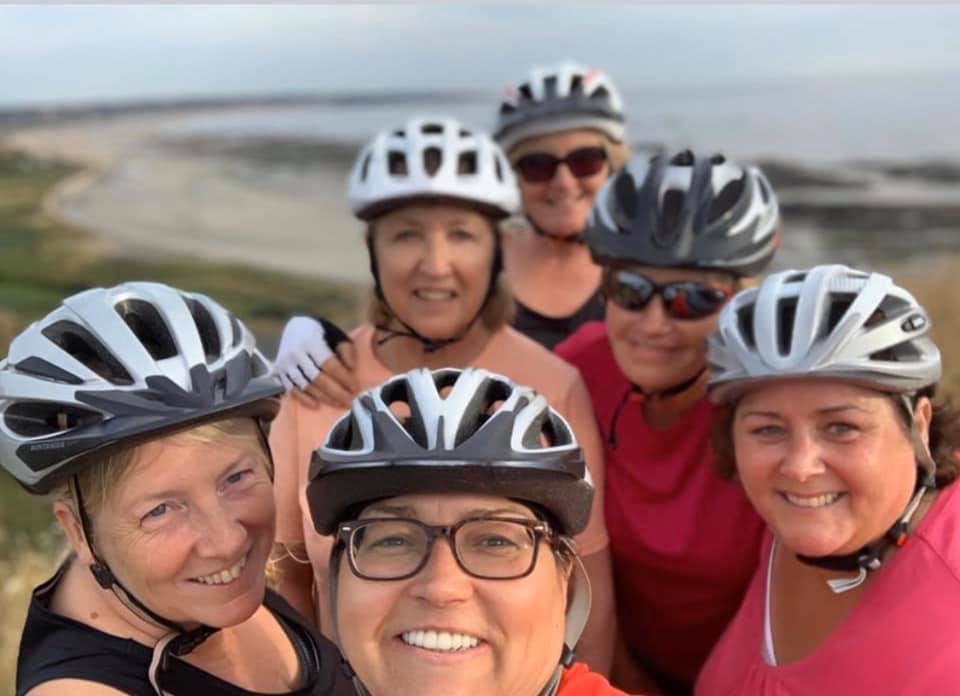 My Breeze journey… the final leg!
Part 4
This time last year I would have never imagined that I would own a bike, enjoy exercising and be on my way to getting over some of the barriers that have prevented me from getting out there and moving more for so many years!
If I'm honest, I was pretty desperate about my health, and couldn't see much light at the end of the tunnel in terms of improving my fitness.
Being overweight is hard, very hard. There's still a perception that fatter people are lazy, out of control and greedy, and, whilst I make no apologies for agreeing that I love my food, it becomes a vicious circle. The more you eat, the more unfit you feel and the less you do. And that equals weight gain! This, coupled by a possible fear of putting yourself out there to try something new, and the self-consciousness that being overweight can lead to, is a very tough cycle to crack.
But, whilst I haven't suddenly become a thin person overnight, here I am ending the year feeling a lot more positive about being able to continue and make changes that will ultimately be of massive benefit to me.
And I guess that's why, when I was asked to post something about my Breeze experience, I agreed.
You see, Jersey Breeze has provided me with the safe, non-judgemental, all-inclusive and fun environment that I needed to help me get over a lot of my hurdles and barriers, and exercise in a way that I'm comfortable with and that I enjoy.
It's also meant I've met some truly amazing, at times slightly crazy, and hilarious women, and I've made some incredible friends, all with their own stories and on their own journeys. They're women who have proved to be genuinely committed to supporting, encouraging and motivating each other to be the best that we can each be. It really is quite unique and very special.
If putting my journey out there gives one other person who might have some of the insecurities that I had, the motivation to come along and try Jersey Breeze, or any other form of exercise then job done!
Sometimes it really is worth just biting the bullet and getting on with it – life's too short to put things on hold, and nothing is more important than good mental and physical health and well-being.
So, if there's one thing you can do for yourself, it's investing some time in you. It might just be the best thing you ever do! And if you think cycling might be your thing, give Jersey Breeze a try, you never know, you might just love it. ???? ???? ????‍♀‍
With love, Claire,
The Not So Reluctant Cyclist xxx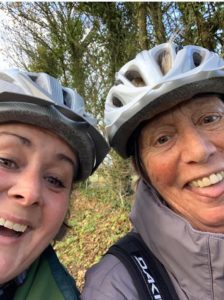 GET MOVING!
If you've been inspired my Claire's story, here's some useful links to help get you moving: