If you're an islander wanting to dip your toes in Jersey waters and need a little inspiration, guidance and support, then local sea swimmer, founder of Sea Clearly and self-confessed water baby, Annabel Barnes could be just the person you've been looking for! 
Raised in Africa with a passion for outdoor activity, Annabel spent her teens and twenties running and playing squash before getting married and emigrating to Sydney, Australia. There, a combination of life events including post-natal depression, a sick child and financial troubles led Annabel and her family back to Jersey where she could be closer to family and the support network she craved.  
Through her darkest moments in Australia, Annabel found daily sea swimming to be the perfect tonic for her mind as well as for her aching knees and back. She realised that being in the water in the fresh air helped her so much more than the various medications she had tried over the years. 
Returning to Jersey six years ago, Annabel decided to take the plunge first in Rozel Bay even though it was 'bloody cold'! Knowing how much it had helped her in Australia, she knew it would have the same positive effect on her health and happiness, albeit a few degrees cooler! 
Fast forward a few years and with a professional background in marketing, Annabel felt a passion rise from within to drive awareness of the mind health benefits of sea swimming. With support from her employer, Alliance Supermarket, Sea Clearly was born and has already touched the lives of many islanders of all ages. 
Sea Clearly: An idea borne out of one woman's wish to drive awareness of the positive effects that cold-water swimming can have on your mental health and wellbeing. 
Annabel's vision is now swimming in the fast lane thanks to video capture from Matt Porteous, a donation from Rathbones and frequent referrals from GPs at Health Plus. 
While she is not medically or sports qualified, Annabel's regular 45-minute social group swims are seen by local health professionals as providing an essential role in people's wellbeing – especially given the current climate where physical isolation and lack of movement has taken its toll.  
Annabel's Sea Clearly initiative has had an amazing response so far and she's incredibly proud of the money she's raised through the sale of her merchandise which has been donated to various projects that are close to her heart. These charities focus on suicide support, mental clarity and environmental issues. She also funded swimming lessons through Move More Jersey for underprivileged children who would otherwise not have had the opportunity. 
'It's all about random acts of kindness and making a little difference which can have a huge impact on people's lives.'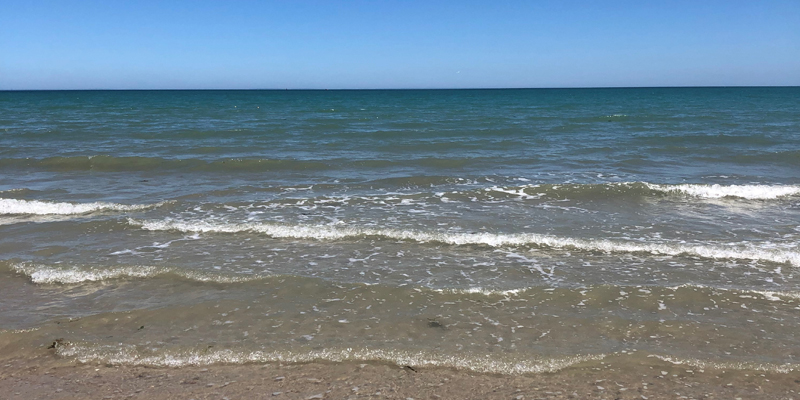 Over the course of this year, in addition to her full–time job, Annabel has spent many hours in the sea with local residents. She's smashing the stigma around mental health – preferring to use the term 'mind health' – and is giving people the opportunity to try sea swimming in a safe, non-judgmental space. Some people who contact her aren't even ready to get in the sea, but a warm, cosy chat sat wrapped up on the beach with a flask of tea might be the perfect medicine for a happier day.  
If you're struggling right now and wonder if sea swimming could help you, Annabel's advice is to give it a go! 
Cold-water swimming has many health benefits including: 
Boosting your immune system 

 

Promoting a natural 'high'

 

Improves circulation

 

Burns calories

 

Reduces stress

 

Positive effect of 

socialising

, making friends and being part of a small community

 
Sea swimming also has potential risks so Annabel is keen to point out that safety precautions should be taken, including: 
Do your research first. Read up on all the important information about sea swimming from an

organisation

such as the Outdoor Swimming Society

.

 

Speak to your GP first if you feel you may have health conditions that could be affected by being in cold water.

 

Check the tides, currents and weather to ensure you're swimming in a safe place.

Always swim with at least one other person, but preferably in a small group, staying close to the shoreline.

 

Use a flotation device so you can be easily spotted if you get into difficulty.

 

Wear a wetsuit, hat and gloves (through the colder seasons).

 

Ensure you understand the importance of acclimatisation.

 

Warm up slowly and naturally after your swim. Layer up, pop on a hat and gloves and drink warm drinks. Do NOT jump straight into a hot bath or shower as this can send your body into shock.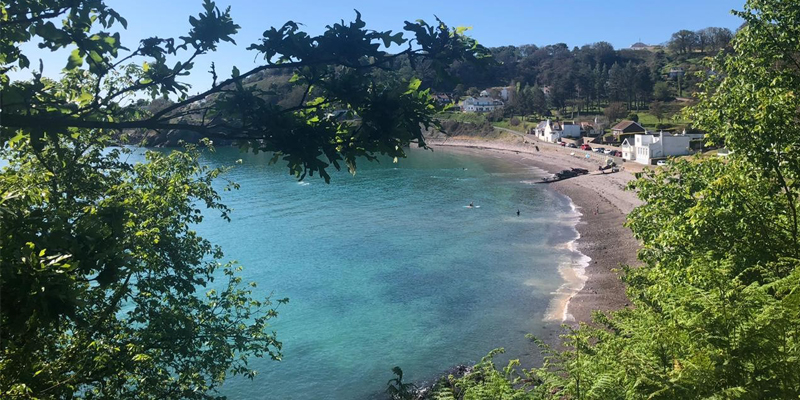 Annabel's favourite beach: "Anne Port – because I'm a bit of a wimp and like to be close to the shore where I can touch the bottom!" 
Time spent in the sea each week: "In summer I probably swim 7-10 hours, but now we're heading into autumn, it's around 30 minutes a day." 
Three reasons why sea swimming is the perfect hobby:
"It's free. It's easy to fit into your day. It's great for body and mind."
Get Moving!
If you've been inspired by Annabel's story and want to try sea swimming to boost your physical and mental health, here are some useful links containing further information to help you:
Beach safety in Jersey (gov.je)