If you ever get to spend a few minutes in Stuart Penn's company, I guarantee you'll walk away feeling inspired, uplifted and motivated to step out of your comfort zone and try something new. 
Born with only one fully formed limb, Stuart has his right leg missing at the knee, left arm missing just below the elbow and has a left leg without a fibula and a small clubbed foot with just two toes.  
But what Stuart lacks in limbs, he more than makes up for in determination, resilience and tenacity.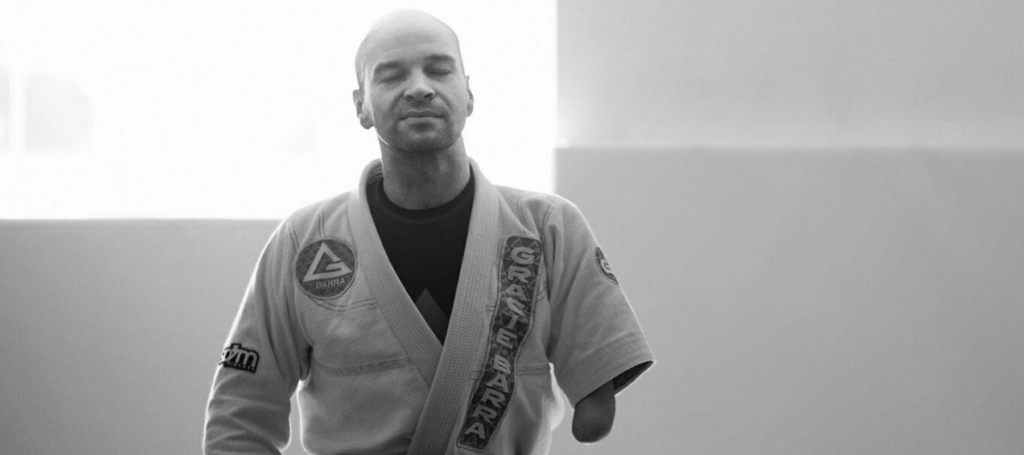 Stuart learnt from a young age that everything is possible – but sometimes you need to think outside the box and find a different way to succeed. His parents gave him the best start in life by allowing him the space and time to figure things out for himself and often reinforced this with 'there's no such word as can't'! 
Going through the regular school system in England, Stuart simply had to learn to adapt – and that's something he's been doing ever since.  
Growing up as a child in the 80s, there were very few disabled role models for Stuart to look up to, so it was action movies starring the likes of Jean-Claude Van Damme that sparked Stuart's curiosity and passion for martial arts. Over the years he has become a passionate sportsman, earning a 4th degree black belt in Tae Kwon Do and a purple belt in Gracie Barra Jiu Jitsu along with several medals from competing in able-bodied and para division competitions.  
In 2017, Stuart competed in the first Para Jiu Jitsu world championships in Abu Dhabi and brought both silver and gold medals home to Jersey.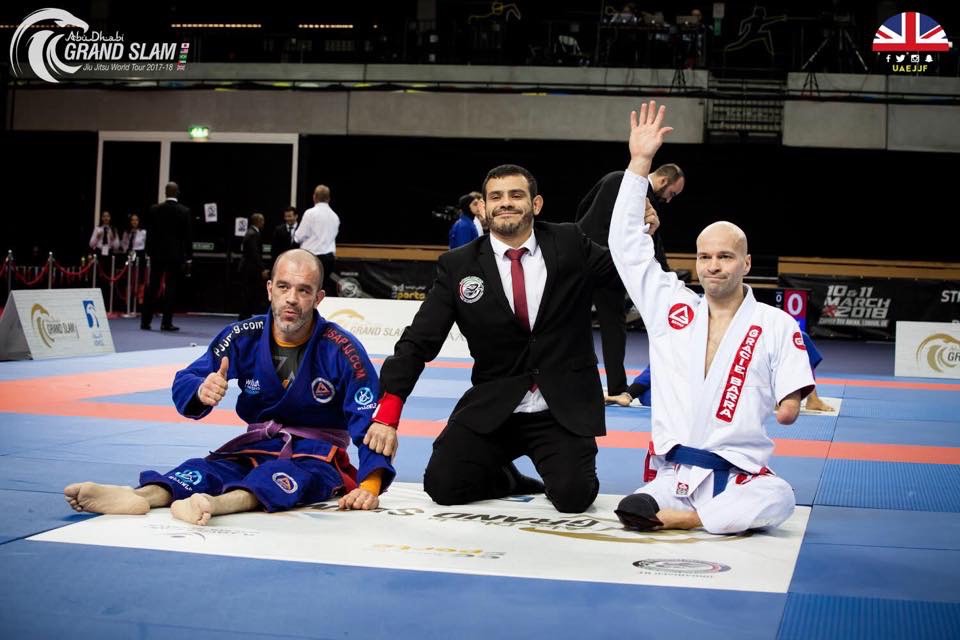 At 18 years old, with the help of a carbon fibre leg (a huge improvement on the badly sized wooden ones of the 80s), Stuart was part of the British disabled athletics squad, competing in the 100m and long jump events. Although, he'll happily admit that he doesn't really like running that much!  
Over the years, Stuart has explored and enjoyed numerous sports including snowboarding, scuba diving, Aikido, boxing, kayaking and cycling as well as taking part in the Jersey Island Walk in 2016. At his fastest pace he could only achieve 2 miles an hour, so split the walk into twelve–hour stints across two days. Despite a twisted knee injury on the first day, Stuart went on to complete 36 miles out of 48 – to which he says:
'I'll take that as a win!'
Away from sports, Stuart found success in stunt work, first as an extra in TV and movies who required people with 'limbs blown off', and later through work with the military where his life skills and experience taught, inspired and motivated soldiers to live an active, full life post-injury or amputation.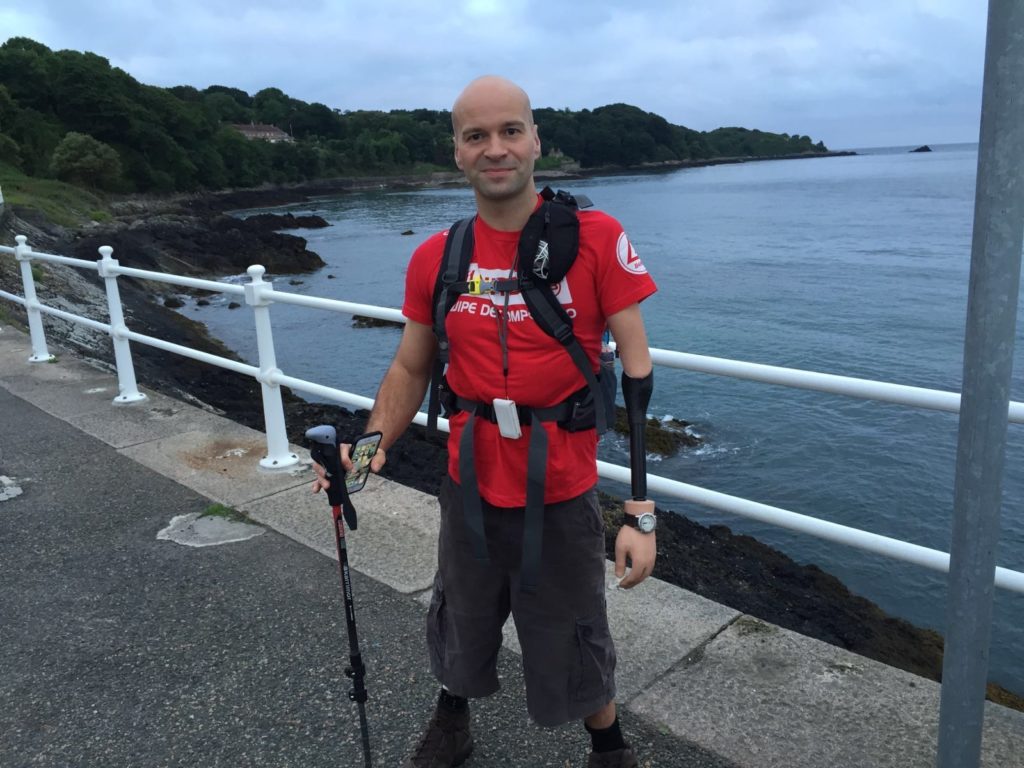 With a lifetime of sporting accomplishment, I asked Stuart if he had any sporty plans for the future… 
"I'd love to try as many sports as possible while also helping sports clubs to adapt to disabled participants and to highlight the fact that many people don't always need special equipment or adaptations. They simply need to be given the opportunity to try something new and explore their own abilities. As a child there was no choice but to persevere in learning to tie my shoelaces one-handed, and it's no different with sport. You don't need fancy extras, just practice." 
As a Move More Jersey Ambassador, Stuart aims to inspire as many people as possible of all ages and abilities to explore new sporting opportunities in Jersey and beyond 
And a final word from Stuart… 
"The power is in your hands. It all starts with you."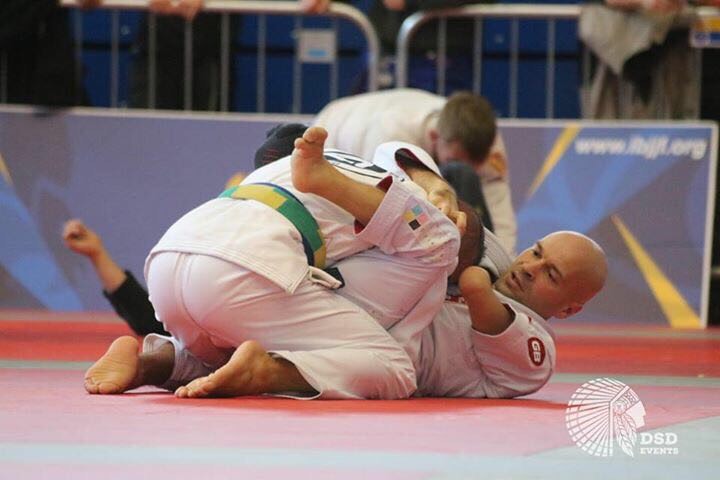 GET MOVING!
If you've been inspired by Stuart's story, here are some useful links to get you moving: