Julie suffers with 'the bad habit of not making time for myself!'. As a sole trader, Julie's business can take up a lot of her time, and add family health issues and it's fair to say that making herself a priority in recent years has not been a success.
Last summer, Julie made the commitment to swim the 30 Bays in 30 Days challenge and raise money for charity. Soon after signing up, she saw Move More Jersey's advert on Facebook for an open-water sea swimming short course for beginners. 'I felt that it would be amazing to tie the two in together. I realised I was excited by the idea of challenging myself to see how far I could swim and to learn sea safety and swimming techniques and create that time for myself.'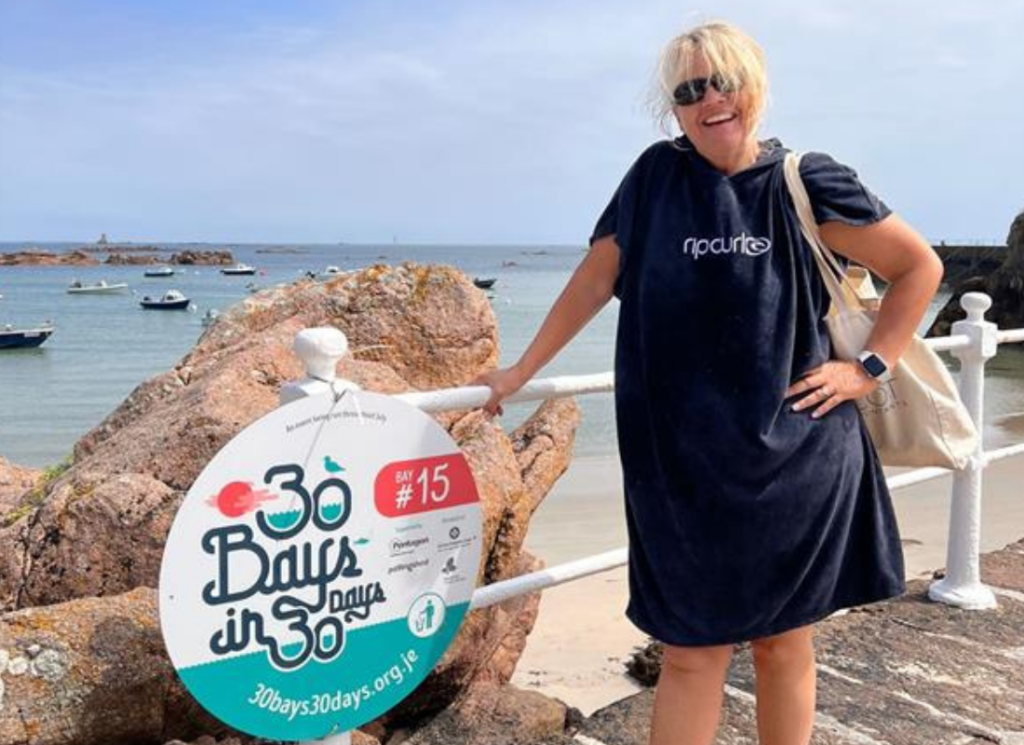 Despite being a fairly confident swimmer with no fear of the sea or deep water, Julie felt very nervous before the first session at Ouaisne beach. When she arrived, the group was not at all what she expected. 'There were people of all ages, shapes and sizes. People with walking sticks, and all abilities, even people who were afraid to stand in the water and many who were apprehensive about putting their face in the sea. We all have these preconceived ideas that stem from our own fears, like expecting everyone to be fitter, younger and more able! But that couldn't be further from the truth. Everyone was made to feel so relaxed and safe. It was a really friendly atmosphere thanks to Martine and the volunteers.'
'I was born here in Jersey and spent much of my childhood on the beach, but the course taught me new things about sea swimming, tides and how to swim safely. For example, always swim with a buddy, use a float and swim parallel to the shore. It amazed me that at 57, there was so much I didn't know! I believe it would be great if everyone had the opportunity to do this!'
Julie is incredibly grateful for the expertise she gained from the volunteers throughout the five-week course and to Martine Le Guilcher's (Move More's Swimming Development Officer) for her motivation, encouragement, kindness and humour. She says, 'the course was so well organised and Martine gave us lots of written information and encouraged some of us more confident swimmers to try the Jersey Long Distance Swimming Club. In the Move More sessions, I swam with a volunteer each side of me, one swimming and one on a paddle board. They made me feel so safe and helped me improve my breathing and swimming techniques with their invaluable guidance. It's just a shame it ended; I could have done it all year!'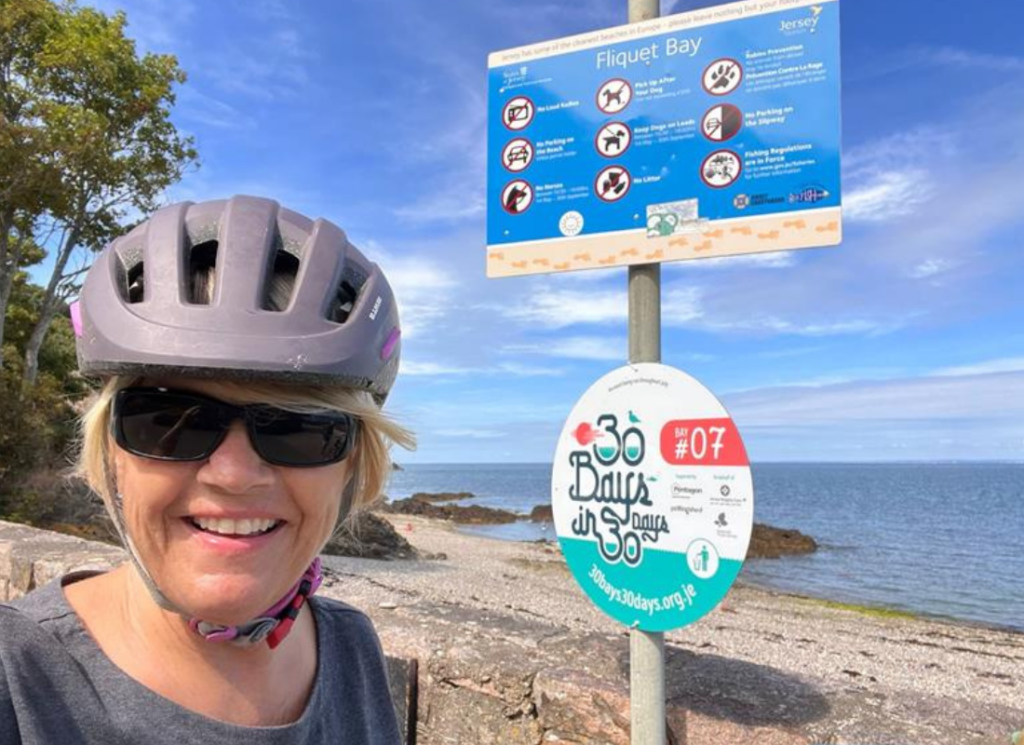 Julie also completed the Move More intermediate swimming class last autumn. Since then she is still enjoying regular swimming with friends and on her own. Year round swimming is the next goal!
Julie shared how great swimming makes her feel mentally as well as physically: 'It's easy to put yourself last, but the feeling of swimming is so therapeutic. I love looking at the land from the sea, or laying back and looking up to the sky, in peace without having to talk…. Knowing that swimming was important to Julie, a friend suggested that she schedule her swimming sessions in the diary, just as she would for client work. While she's not quite managed to make it a regular occurrence every week, Julie admits she's 'getting better at putting myself first!'
'The Move More sea swimming course has been life-changing for me. It made me realise there is something I can do that I really enjoy. Plus, the bonus is that it's filled with friendly people that are welcoming and hugely knowledgeable. It's boosted my confidence so much!'
'This course really is about so much more than swimming and I'd totally recommend it to anyone.'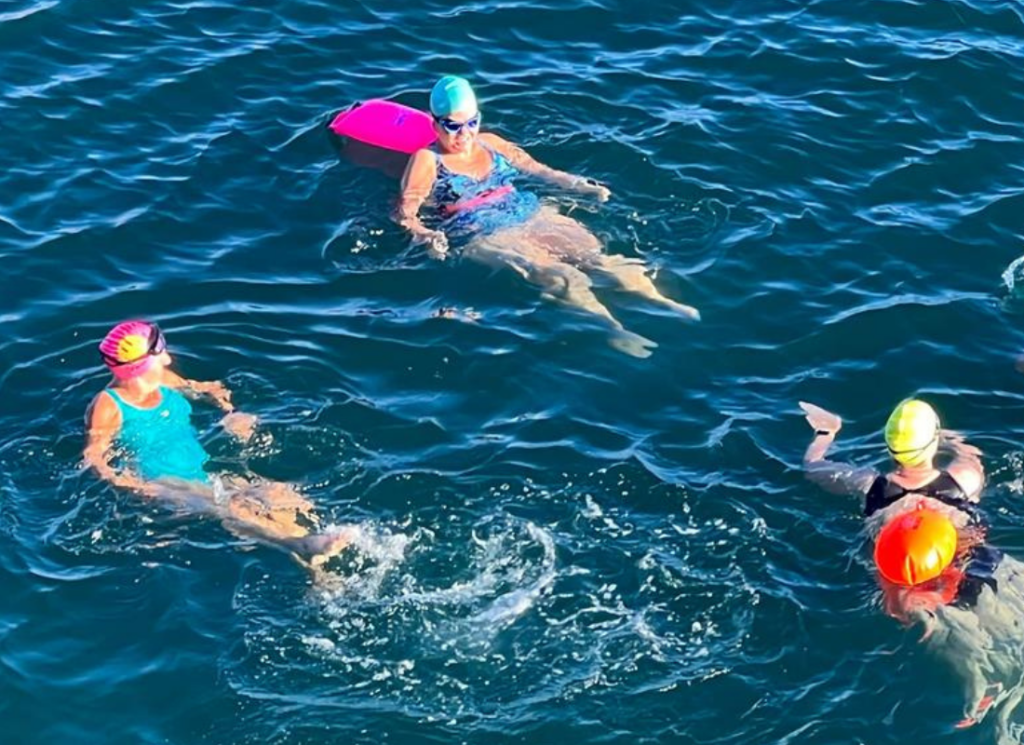 When you have an exercise, health or fitness goal, joining a group can be a powerful support as it offers so much beyond the class itself. New friendships are made, accountability buddies are gained and levels of motivation and enthusiasm are increased. People who exercise with a friend are more likely to stay committed and less likely to give up when motivation wanes after the first few sessions.
For Julie, this course has helped her take the next step towards her ultimate goal: 'to create a long-term habit that I can take into retirement and practice anywhere in the world. I see us travelling in our motorhome and being able to swim in bays wherever we go. I want to continue to improve my fitness and make time for swimming every week. That's the key part – to create a new habit that becomes a way of life; an integral part of who I am. I love seeing women in their 80s on the beach with their flasks of tea and deck chairs – I want to be a part of that!'
If you'd love to try sea swimming, or would like to improve your swimming skills in the pool, but worry about looking silly or feeling out of place, Julie has some words of encouragement: 'It can be intimidating to know where to start, but everyone is so friendly and welcoming. Being seen in a swimsuit can be off-putting but honestly, no-one takes the blindest bit of notice! We were all there with floats tied round our waists like tails, plastic caps and 6ft wide swim coats but no-one was bothered – it was very refreshing to be in that environment!'
'Do something for you! Come and swim with non-judgemental new friends who simply want to pass on their pleasure and expertise to others.'
If you're inspired by Julie's story and If you'd really love to learn how to swim, or take part in a new sport or fitness event, you'll find all the links below: