SEA SWIMMING IN WINTER
More and more people are turning to cold water swimming because of the mental health benefits it can bring – especially linked to help improving anxiety, dementia and depression. Scientific research is discovering cold water immersion can prepare you, both mentally and physically, to better deal with any stress that may come your way.
We're fortunate to live on such a beautiful island with so many lovely bays to take a dip in, but sea swimming, especially during the colder months, should be conducted with extreme caution.
IT IS NOT RECOMMENDED TO START SEA SWIMMING NOW, IF YOU ARE A NEW OR INEXPERIENCED SEA SWIMMER. IT IS BEST TO WAIT UNTIL THE SPRING, WHEN THE SEA AND AIR TEMPERATURE IS WARMER.
If you're in good health, start your sea swimming journey with small dips (no more than 10 minutes) and never swim alone. See how you feel after you get out and extend your time in the water gradually. How much cold an individual body can take will vary from day to day, depending on sleep, health, stress, recent acclimatisation, what you've eaten, and the time of day.
Always enter the water slowly, in a controlled way. One of the first things you will learn to control as a winter sea swimmer is the 'gasp' reflex, where it feels as if the cold water has punched the air out of your lungs, and you can't breathe. If this happens to you, exhale strongly. Then concentrate on slowing your breathing rate and taking a few steady head up breaststrokes. Stay in the shallow water until you can control your breath so that, if need be, you can stand up or walk back out.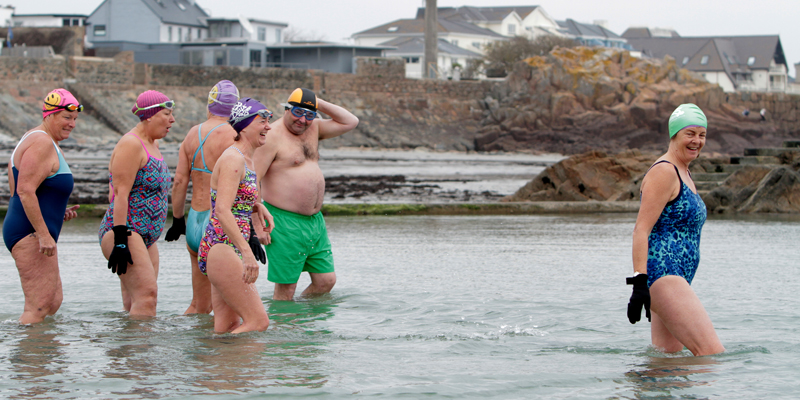 Another trick, to help acclimatise to the cold water, is to dab sea water on yourself before you immerse your entire body. Pat cold water on your cheeks and face, the back of your neck and pulse points – inside of wrists and elbows. Do this a few times until you've acclimatised to the cold water and feel ready to get in.
Don't let the shock of cold water put you off sea swimming. It's important to highlight the risks associated with cold water swimming and help suggest ways to overcome what you may experience. Always follow sea swimming safety advice properly and do some research using the links provided at the bottom of this page for further information, before you take your first cold water dip.
NEVER SWIM ALONE AND DO NOT START SEA SWIMMING IN WINTER WITHOUT SUPPORT AND ADVICE FROM AN EXPERIENCED SEA SWIMMER.
If you have a cardiac or other significant medical condition, it is not recommended that you take up sea swimming without seeking medical advice first.
MEET EXPERIENCED OPEN WATER SWIMMER, HAYLEY
Hayley talks about sea swimming during the winter and gives some top tips for new or inexperienced sea swimmers…
SEA SWIMMING GROUPS
There's sea swimming clubs and groups that swim throughout the year, like the Jersey Long Distance Swimming Club or the Mermaids and Mermen in Jersey, pictured below. Photo credit: Paul Lakeman.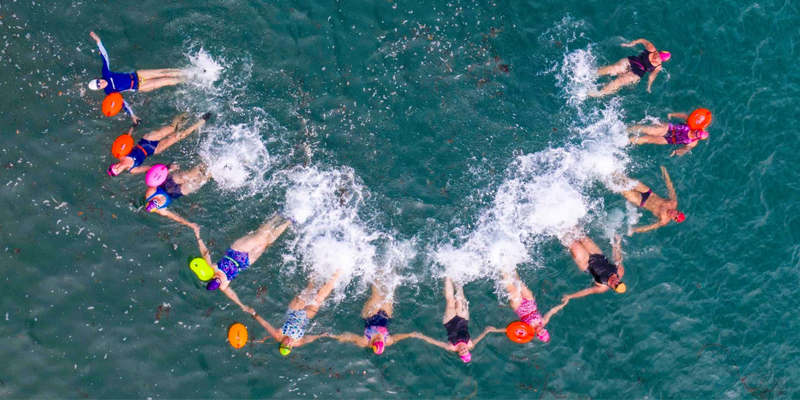 THE BENEFITS OF SEA SWIMMING
Swimming in the sea brings with it many health benefits, for both body and mind:
It boosts your immune system
It promotes a natural 'high'
It improves circulation
It burns calories
It reduces stress
It helps improve anxiety, dementia and depression
Is a social activity – you can become part of a small sea swimming community
It's easily accessible in Jersey
It's free!
Read more about the benefits of sea swimming on health and wellbeing in the Outdoor Swimming Society's article:
SEA SWIMMING'S EFFECT ON WELLBEING
MEET ANNABEL WHO SEA SWIMS EVERY DAY FOR GOOD MIND HEALTH

After experiencing difficult times, Annabel found daily sea swimming to be the perfect tonic for her mind, as well as for her aching knees and back. She realised that being in the water, in the fresh air, helped her so much more than the various medications she had tried over the years.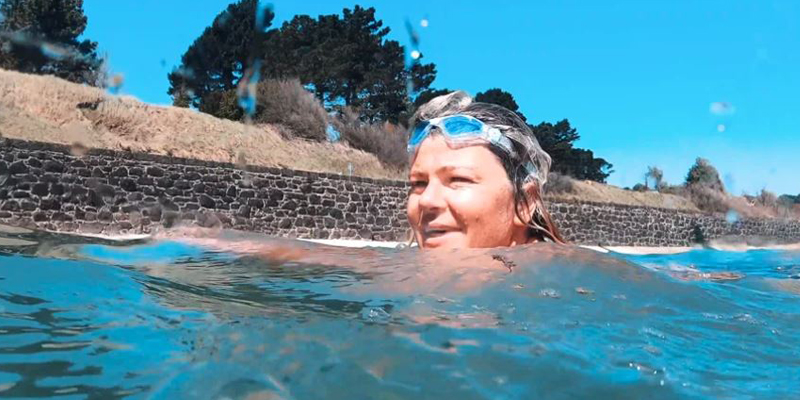 Upon returning to Jersey, Annabel decided to take her first plunge in Rozel Bay, even though it was "bloody cold"! Knowing how much sea swimming had helped her in Australia, she knew it would have the same positive effect on her health and happiness, albeit a few degrees cooler!
Annabel felt a passion rise from within to drive awareness of the mind health benefits of sea swimming, and so Sea Clearly was born.
In addition to her full–time job, Annabel has spent many hours in the sea with local residents. She's smashing the stigma around mental health – preferring to use the term 'mind health' – and is giving people the opportunity to try sea swimming in a safe, non-judgmental space.
"It's free. It's easy to fit into your day. It's great for body and mind."
STAYING SAFE IN THE WATER
You should always be extremely careful if sea swimming in the colder months, especially if you are not used to it, or aren't a very strong swimmer. Always follow outdoor swimming safety advice, including:
Speak to your GP first

if you feel you may have health conditions that could be affected by being in cold water – particularly if you have high blood pressure, heart disease, asthma or any condition that might raise your own risks. You should only consider sea swimming during autumn/winter if you are in good health.
Check the tides, flow of currents and weather to ensure you're swimming in a safe place before you enter the sea.
Never swim alone. Always swim with at least one other person, but preferably in a small group, staying close to the shoreline.
Use a colourful flotation device so you can be easily spotted in the water if you get into difficulty.
Wear a winter wetsuit, hat and swimming gloves when swimming in the sea during autumn/winter.
Understand the importance of acclimatisation. Warm up slowly and naturally after your swim. Layer up, pop on a hat and gloves and drink warm drinks. Do NOT jump straight into a hot bath or shower as this can send your body into shock.
Learn about 'After drop' – and how you can avoid feeling very unwell and faint by warming up safely.
Before you take your first sea swim, do your research first. Read up on all the important information about sea swimming from an organisation such as the Outdoor Swimming Society, or speak to a local sea swimming club, like the Jersey Long Distance Swimming Club – they have information about safe sea swimming on their website:
GET MOVING! 
If you're interested in sea swimming, here are some useful links to help get you moving:
JERSEY LONG DISTANCE SWIMMING CLUB