RUNNING IN WINTER
The thought of running in winter may not seem as much fun as running in beautiful summer sunshine, but with the right gear and mindset, you'll soon learn to love it!
Remember that once you start moving, your body will heat up quickly, which could result in overheating if you're wearing too many winter layers. Layering properly will help regulate your body temperature.
When planning your run on windy, cold days, try to run into the wind on your way out and with the wind on your back as you return. Try to avoid running into the wind when you are wet and sweaty, because you'll feel the chill very quickly.
Cold temperatures and dry air can aggravate some health conditions, so make sure you are in good health before you start running. Take it slow to start and gradually build up the distance you run, as your stamina and strength increases.
Arrange to meet a friend for a run, or join an organised running club – then there's no way of backing out and your runs will gradually become part of your weekly routine.
If you haven't run before, try starting by running for 1 minute and then walking for 1 minute, and repeating that until you gradually increase our fitness and the length of time you can run for. Something like the Couch to 5K programme will guide you through these steps over a few weeks. You don't need to go out and run 5K at the outset if you've never run before!
MEET RICH, FOR WHOM RUNNING BECAME A WHOLE NEW WAY OF LIFE
For Rich, running started out as an occasional fitness activity, but now has slowly become a passion and a whole new way of life.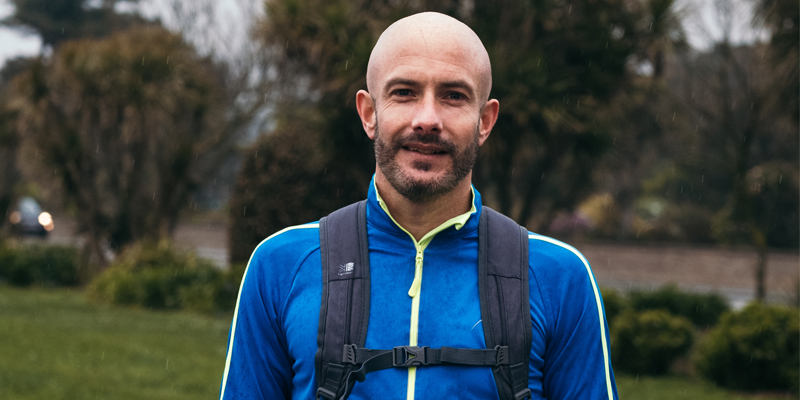 Rich had only ever been an occasional runner and 5-a-side football player, but it was the illness and subsequent death of his cousin that led to the turning point to Rich's first running challenge – a half marathon with his brother to raise money for Jersey Hospice who had looked after his cousin during his final days.
"Running has brought me so much more than a fitter, healthier body. It's enabled me to form new friendships, feel less isolated and has been a great way to clear my head during times of stress."
Living in London during this period without his usual support network of family and friends, Rich knew he was struggling with loneliness and lack of human connection. Realising his need for a strong support network, Rich returned to Jersey and joined the Jersey Run Club and later the Jersey CrossFit Run Club.
Joining a running group and undertaking regular training each week provided a welcome source of support, inspiration and motivation to turn up and run. Running helped to pull Rich out of a dark place.
RICH'S TOP TIPS FOR RUNNING IN WINTER
Our Move More Ambassador, Rich, also gave us the low down with his top tips for running in winter:
WHERE TO RUN
During winter I like to run at the marina, because on the pier you can shelter you from the weather conditions and it's lit when it's dark.
I also like the running trails dotted around the island when it's light and good weather, or the coast roads – so I can take in the views.
WHAT TO WEAR
The best type of clothing to wear when running in winter includes a base layer. If you're going to be running regularly, it would be worth investing in a decent running jacket that's high viz, waterproof and lightweight.
If you're running when it's dusk or dark, wear high viz gear and a head torch. Always carry your phone, as you never know what's going to happen.
Always make sure you're wearing the correct running shoes for the terrain you're running on. Watch out for the slippery pavements when it's wet!
You'll need gloves and a hat for when the temperatures are low. Running leggings and a long-sleeved top are worth investing in as well, to keep you warm.
You don't want to wear too many layers though, as you'll soon warm up running and may need to take clothes off.  Always check the weather forecast before you head out and dress appropriately.
KEEPING MOTIVATED
The best tip for running during winter, when there's less evening light and colder weather, is run with a friend or in the group at a run club. We all struggle with motivation during the winter, especially when the weather is miserable. Running with someone makes it so much more bearable and fun!
Please be sensible – you're allowed to miss a run or training session if the weather conditions are bad, or if you're feeling under the weather.
WARM UP, COOL DOWN
Warming up in winter is very important. Do a 5-minute warm up inside, before you leave the house. Try doing some dynamic stretches, high knees, butt kicks and lunges.
When you've finished running, cool down afterwards with a few stretches. You'll find lots of great running warm up and stretching videos on YouTube.
Also remember to keep hydrated! Just because it's winter, we might not sweat as much, but we still need to stay on top of keeping ourselves hydrated whilst exercising.
MEET ELENOR, REPRESENTING THE WORKING MUMS TRYING TO SQUEEZE EXERCISE INTO THEIR LIVES
Elenor was inspired to start running by her colleague Sam, who dabbles in a bit of ultra-running and whom she credits with giving her 'a kick up the bum' to get moving!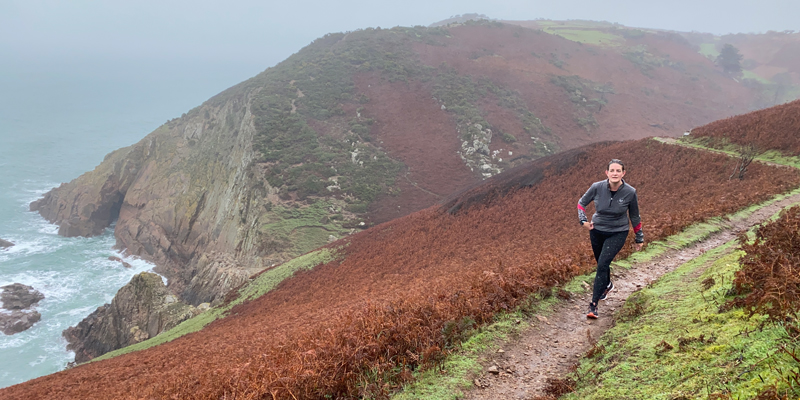 Sam started the running club at Elenor's active workplace, Fairway Group, where she took part in her first Couch to 5K programme (and loved that too!). Now helping to take new runners through the programme, Elenor really is not just a fantastic role model to her young children, but an inspiration to those around her.
Friends have commented on her different attitude to life now, saying that she just appears so much 'happier in herself'. Of course, weight loss is always a bonus, but it's the emotional health and well-being benefits that make such a difference to Elenor's life, and to those around her.
Elenor completed her first 5K Parkrun in February and went on to take part in other local short distance running challenges such as the Durrell Dash, the Canaccord series and the Jersey Marathon Run From Home Challenge. She now runs whenever she can to keep fit and is currently training to take part in a 10K trail race!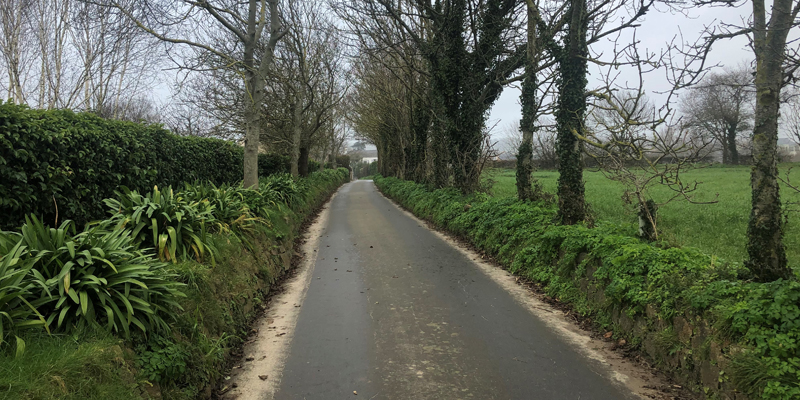 The Diary of a Walker Learning to Run
Fancy taking up running, but don't know where to start? The Couch to 5K programme is a great place to begin.
For some move more motivation, follow the diary of The Girl in Pink Trainers as she embarks on her Couch to 5K journey, sharing her honest feelings and observations each week as she learns to run…
GET MOVING! 
If you're interested in running, here are some useful links to help get you moving:
THE WATERFRONT JERSEY JUNIOR PARKRUN